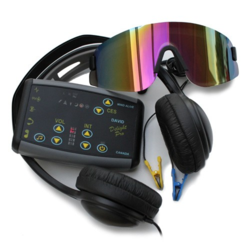 We were excited at the outcomes of our pain studies. The DAVID induces a dissociated mind-state, similar to meditation and hypnosis, both of which have been shown to be effective in treating both pain and the mental distress that accompanies it
Los Angeles, CA (PRWEB) July 23, 2012
Mindmachines.com unveils the DAVID Delight Pro mind machine by Mind Alive for coping with physical pain and associated mental and emotional stressors. The DAVID Delight Pro is a light and sound brainwave stimulation device that now includes pre-programmed sessions that have demonstrated to provide pain relief in scientific studies.
Dave Siever, President of Mind Alive, Inc. and Michael Twittey tested the effectiveness of DAVID light and sound instruments for treating chronic pain and associated psychological stress. This pilot study included participants with pain resulting from motor vehicle accidents, arthritis, lupus, fibromyalgia and temporal mandibular joint dysfunction (TMJ).
The participants measured pain intensity by keeping a daily 'pain level' diary using the 10 cm visual analogue scale (VAS). Scores were averaged monthly. To measure depression and general psychological distress, participants filled out the Beck Depression Scale (once before treatment and once again two months into treatment). Participants' daily diaries were also used to record the length of time and type of treatment each time the DAVID mind machine was used. Treatment continued for three months, with the VAS being recorded daily and Beck measures being taken bi-monthly. Treatment then ended and post treatment measures were taken.
Improvements in pain ratings were significant after two months of treatment, t(9)=4.08, p<0.005. The base rate mean was 49.2 +/-14.92. Following treatment, the mean was 29.09 +/-19.02. Improvements in depression were also significant after two months, t(3)=2.51, p<0.05, with a mean changing from 16.0 +/-10.13 to 10.25 +/-11.32. What this means is that pain fell 40% and the entire group average for depression fell from mild depression to no depression at all.
These results prompted Mr. Siever to say, ""We were excited at the outcomes of our pain studies. The DAVID induces a dissociated mind-state, similar to meditation and hypnosis, both of which have been shown to be effective in treating both pain and the mental distress that accompanies it. The DAVID has also been proven to be an effective intervention for a wide variety of issues ranging from calming the mind such as with PTSD, pain and anxiety to boosting the mind such as with depression, ADD/ADHD and boosting grades in college students. There are no reported side-effects and it can be used with almost everyone.""
Michael Landgraf, co-operator of Mindmachines.com and publisher of the AVS Journal, adds, ""Recently I had an outpatient medical procedure that turned out to be very unpleasant. Two weeks later I tweaked my left leg while doing some heavy lifting. Both experiences were painful, and I was aggravated about having to deal with it. Rather than receive a prescription for pain medication – the side effects hinder my responsibilities – I began using the DAVID Delight Pro to help overcome my negative thoughts and those painful sensations. The Mood Brightener sessions helped the most. With or without pain meds, my physician estimated three weeks for recovery. He was right. Without augmenting my daily use of the Delight Pro with painkillers, I experienced a gradual decrease in throbbing and discomfort, which enabled me to get much needed sleep. It's a relief to know there is an alternative to pain medications.""
The DAVID Delight Pro by Mind Alive includes choice of case color: blue, black or yellow. The eyesets are Tru-Vu Omniscreen white; headphones or earbuds, CES stimulus cable, stereo patch cord, carry bag, 9-volt battery, AC adapter, Quick Start Guide, Operator's manual and downloadable copy of "Mind States: An Introduction to Light and Sound Technology". Available accessories include: DAVID Session Editor, Extra User package, Multi-Color eyeset with left/right independent eye control and Tru-Vu Omniscreen eyesets with viewholes for eyes-open utilization. There are twenty-five built-in sessions plus space for user designed sessions (with session editor software). The sessions are categorized into: Energize, Meditate, Brain Brightening, Sleep, Feeling Better and User Designed. There are five sessions within each category (User Designed category has room for five personally created sessions).
A digital library of research regarding the use of the Delight Pro light and sound mind machine for chronic pain is posted at Mindlive.com. For information about the utilization and maximization of session experiences of the Delight Pro contact Christopher Oliver or Michael Landgraf at Mindmachines.com.