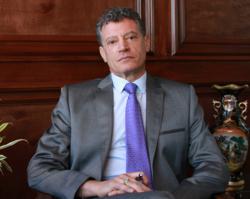 In sexual abuse cases, it is an uphill battle arguing in front of a male judge or male jurors. The process of making a judge and jury understand that, just because a woman submits to a sex act, does not mean it is consensual, is critical to winning.
Los Angeles, CA (PRWEB) May 16, 2013
For the second consecutive year, David Drexler, a preeminent Los Angeles personal injury attorney, delivered a presentation to the American Board of Professional Liability Attorneys (ABPLA) on the subject of doctor/patient sex cases and court trials. The influential organization's national conference, an annual event, was held from April 25 through April 27, 2013, in New Orleans. Drexler, a double-boarded Diplomate in the specialized areas of medical malpractice and legal malpractice cases and who serves on the ABPLA Board of Directors as California Chair, discussed "The Dialectics of Medical Molestation Cases".
"In cases where a trusted physician sexually abuses a patient, the process of arriving at the truth in trial is exponentially more difficult than your typical malpractice case," said Drexler, who was nominated California Trial Attorney of the Year by the Consumer Attorneys Association of Los Angeles and has tried over 200 cases and handled many successful appeals.
"When a woman is the victim of a doctor's sexual aggression, the victim's reactions – or lack of them – are deeply rooted in well-known psychological manifestations that translate into fear, shame and humiliation, which prevent the victim from acting as people would normally expect them to," said Drexler.
Delving into specific deposition testimony and trial transcripts from his own successful cases, Drexler explained that it is "vital" for trial attorneys to understand the anti-victim prejudices and the unique challenges of explaining the psychological issues affecting female victims who are confronted with the sudden, shocking reality of an unwanted sexual assault by a trusted doctor.  Drexler cited examples and provided anecdotes from actual lawsuits against physicians and other healthcare professionals for sexual misconduct with patients that Drexler has prosecuted, settled or tried in jury trials.
"In these sexual abuse cases, it is often an uphill battle arguing the case in front of a male judge or male jurors," states Drexler.  "The process, or dialectics, of logically and systematically making a judge and jury understand that, just because a woman submits to a sex act, does not mean it is 'consensual', is critical to winning."
"In our culture doctors are revered, God-like figures whom we hold them in the highest regard and deeply trust. Sexual abuse catches a victim off guard and they just don't react as we would expect. It's difficult for most people to understand without something this reprehensible happening to them," concluded Drexler. "But, as trial attorneys, it is our job to make sure that judges and jurors understand all of these human factors to level the playing field and to obtain justice."
The ABPLA, a national organization comprised of leading trial attorneys who specialize in the prosecution of professional liability cases against physicians and attorneys, is accredited by the American Bar Association. Drexler has the unique distinction of being Nationally Board Certified as a Professional Liability Trial Attorney Specialist in both legal and medical malpractice cases.
According to ABPLA President William F. McMurry, organization members raved about the presentation.
"David's presentation was terrific and enlightening and it was an important discussion about the intricacies of the process of sensitizing courts and juries during a trial to understanding the state of mind – as well as the cultural and social contexts – of a helpless patient being victimized by a trusted physician," stated McMurry. "David is a highly recognized malpractice attorney and it's always an honor when a lawyer of his stature is willing to come and share his keen insights with his colleagues."