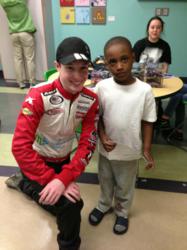 David's ability to use his racing career to increase awareness and raise funds for research is a valuable, and much appreciated, community service.
Greenville, SC (PRWEB) April 03, 2013
David Levine returns to Barber Motorsports Park for the Porsche 250 on Saturday, April 6, 2013 where he hopes to use last year's victory in GRAND-AM's ST class to propel him to victory this year in the GS class. David not only has moved up to the GS class but also to the role of the closing driver. He'll be behind the wheel of the #78 Ford Racing Mustang Boss 302 having been signed for the 2013 racing season by Racers Edge Motorsports.
Finishing on the podium is just one of David's priorities during his return to Birmingham. Last spring, David developed and launched Drive for Heart (http://driveforheart.org), promoting a message about the importance of maintaining a healthy heart to high school and college students and other young adults.Working in partnership with the American Heart Association, David schedules time during race weekends to visit local area hospitals, where he shares his personal story with young heart patients, signs autographs, and tries to brighten the day of these young patients while also letting them know there's hope. So, the day before the green flag drops, David will visit Children's of Alabama and will strive to rev the engines of as many kids as he can.
Dr. Samuel S. Gidding, who has been David's cardiologist since birth, is an American Heart Association affiliate board member, and is currently the Pediatric Cardiology Division Chief of the Nemours Cardiac Center at Nemours/Alfred I. duPont Hospital for Children in Wilmington, Delaware, explained: "We've made a lot of progress in treating and repairing congenital heart defects like the ones David was born with. But, the importance of increasing awareness of congenital defects cannot be emphasized enough, and there's still a need for further research into the causes of, and treatments for, congenital defects. David's ability to use his racing career to increase awareness and raise funds for research is a valuable, and much appreciated, community service."
"Each time I sit in the driver's seat, I am reminded of how fortunate I am to be here, to live my dream and to have the opportunity to reach my goals," David said while putting on his driver's suit prior to getting into the #78 to practice for the Porsche 250.
Things could have turned out differently. According to Dr. Constantine Mavroudis, the cardiac surgeon who performed David's open heart surgery, "During surgery, we discovered that, in addition to a large inlet ventricular septal defect, David had a very rare defect known as a straddling tricuspid. One of the papillary muscles of his tricuspid valve straddled through his ventricular septal defect and inserted on the left ventricular side of the septum. Even at large hospitals like Children's in Chicago where David's surgery was performed, we see 1, maybe 2, such defects per year."
David knows he almost didn't cross the finish line."I was lucky. I had a defect that was diagnosed and fixed in time. But what about kids who don't even know they have defects? They deserve the same chance I had and that will only happen if we increase awareness, and continue to conduct research, about congenital heart defects. That is just one reason why the work of the American Heart Association is so important and why I launched my Drive for Heart campaign."
Check out David's Upcoming Race Schedule, which includes the television broadcast dates, on his website, and follow David on Facebook and Twitter.