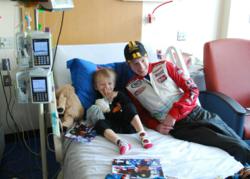 Offering encouragement to kids facing long odds is only one way David supports the AHA.
Highland Park, IL (PRWEB) February 25, 2013
After a highly successful year of racing as an opening driver in GRAND-AM's Street Tuner class, David Levine steps up to the GS class for the 2013 racing season. David was signed by Racers Edge Motorsports to be the closing driver of the #78 Ford Racing Mustang Boss 302.
"David is a superb young driver and we jumped at the opportunity to sign him when we learned he was available," said Racers Edge Owner/Team Manager, Jon Mirachi. "We're thrilled to have David as a Ford Mustang driver this year," added Mickey Matus, marketing communication manager, Ford Racing. "We look forward to a strong effort from the Racer's Edge team."
Adding to the excitement was the announcement that the #78 will carry one of SPEED TV's on-board cameras. In addition to coverage of all on-track action, SPEED enhances each broadcast with streaming video from four on-board cameras for each CTSCC race--two each in the ST and GS Classes. With the #78 having been selected to carry one of these cameras, David is hoping that the additional media exposure will give a boost to his "Drive for Heart" campaign which supports the American Heart Association.
Last spring, David developed and launched Drive for Heart (http://driveforheart.org), promoting a message about the importance of maintaining a healthy heart to high school and college students and other young adults. Working in partnership with the AHA, David scheduled time during race weekends to visit local area hospitals, where he shared his personal story with young heart patients.
"I was born with a ventricular septal defect, a common congenital heart defect, but I had a more complicated and rarer defect, too, and all of these defects had to be corrected by open heart surgery when I was only four months old," said David. "I think it's important to let these kids know there's hope and I really enjoy seeing them light up when I visit."
On February 28, immediately prior to his race weekend at the brand new Circuit of the Americas track, David will visit Dell Children's Medical Center in Austin, Texas. According to Kevin Harker, Executive Vice President of the AHA's Midwest Affiliate, "We're so pleased by the commitment David has made to the American Heart Association's mission. Offering encouragement to kids facing long odds is only one way he shows his support. We're also very pleased when he comes to regional fundraisers in his racing uniform, like he did at the 2012 Metro Chicago Heart Walk. He brings attention and awareness of the issues around heart health to an important audience. People in their teens and 20's are not always conscious of how their lifestyle choices may impact their health down the road."
Check out David's Upcoming Race Schedule, which includes the television broadcast dates.