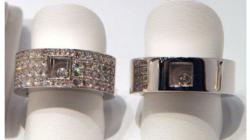 We're extremely excited about this new range of "Golden Years" jewellery.
England, UK (PRWEB UK) 10 May 2013
Taking inspiration from the classic designs inherited from the eponymous owner, "Golden Years" is a celebration of traditional British designs and the company's humble beginnings as a single goldsmith creating pieces in his own workshop.
The range will be comprised solely of gold pieces including watches, jewellery, necklaces and brooches and a few limited editions which are yet to be announced.
Jacob Rosenberg, MD of David Rosenberg Jeweller, said: "We're extremely excited about this new range of "Golden Years" jewellery.
"We may not always have the best summers in the UK but we should aim to make the most of what we do have, gold takes on a beautiful colour in summer sunshine which we lose in the grey winter light."
The idea for the range was devised by David Rosenberg's great grandson, Jacob, who found books of old drawings hidden in an old trunk in his loft.
Jacob added: "We hope our customers enjoy this range as much as we've enjoyed making them, uncovering my great grandfather's old designs, and remaking them a hundred years later, has been a fantastic experience.
"At first, I was worried that the drawings would look dated but to be honest they're really impressive, my great grandfather really knew his craft, I just hope we've done his talent justice!"
The new collection is the first seasonal range to be announced by the company in several years and marks a notable increase in demand for high quality jewellery in the UK.
Although, no official announcement has been made, there are rumours that the company may expand its operations either abroad or in the UK in the near future.
About David Rosenberg Jewellery:
David Ian Rosenberg learned his craft as a goldsmith working for famous jeweller in the Jewellery Quarter, Birmingham named Michael Cooper. David Rosenberg Jewellery has been providing the UK with the highest clarity diamonds and the most elusively beautiful metals combined in the form of jewellery sets and pieces, since 1906.
The company is now owned and run by David's great grandson and great grand daughter, Anne and Jacob Rosenberg. They continue to produce jewellery with the same stamp of quality that their great grandfather used in his jewellery sets and currently have 8 stores in the UK.