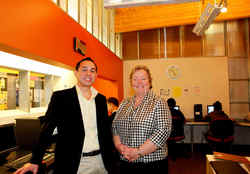 Imagine, in 2010, being without a computer—basic activities including job searches, applications for services, educational opportunities and email contact with family and friends would be nearly impossible
Beverly Hills, CA (Vocus) February 5, 2010
The David Bohnett Foundation announced today grants totaling $500,000 to David Bohnett CyberCenters across the United States. In establishing the CyberCenters, technology entrepreneur and philanthropist David Bohnett's vision was to provide LGBT communities with a "wired" hub through which its members could network, communicate, and explore educational, professional and recreational opportunities. To keep the CyberCenters up-to-date, in 2004, the "refresh" program was started, where each CyberCenter is supplied with brand new state-of-the-art equipment on a consistent basis (approximately every three to four years). In 2010, the Foundation is funding refresh grants to 24 locations throughout the United States.
"The Centers provide a safe environment for members of the LGBT community — from youth who may find themselves without a support system—to seniors, who may have little or no familiarity with computers," said Michael Fleming, Executive Director for the Bohnett Foundation. "In today's increasingly Internet-driven world, the David Bohnett CyberCenters have proven to be a lifeline for people of all ages. We are happy to provide regular 'refresh' grants enabling groups to keep pace with the many advances in computer hardware and software."
Locations included in the 2010 refresh program are Atlanta, Baltimore, Cleveland, Columbus, Denver, Duke University, Los Angeles, Long Beach, Long Island, Milwaukee, Orange County, St Petersburg, San Jose, Seattle, Tampa, Tulsa, Salt Lake City, UC San Diego, UC Santa Barbara, UC Riverside, University of Pennsylvania, University of Utah, and Washington, D.C. Equipment upgrades include Lenovo all-in-one A70z PC customized bundle with Microsoft Office software, Windows Pro 7 - 19" Widescreen Monitors in addition to Documate 510 Flatbed Scanners and IBM Infoprint color laser printers.
The very first David Bohnett CyberCenter opened its doors in 1998 at the Los Angeles Gay & Lesbian Center. The CyberCenter was an immediate hit, and served as the model for similar facilities throughout the United States. There are now 63 David Bohnett CyberCenters nationwide. They serve as prime examples of the Foundation's commitment to making leading-edge technology available to the traditionally underserved LGBT demographic.
"People are sometimes surprised there's still a need for CyberCenters," said Lorri L. Jean, Chief Executive Officer of the L.A. Gay & Lesbian Center. "The fact is, these computers remain a lifeline for many—especially LGBT seniors and youth—who depend on our David Bohnett CyberCenter to connect to the Internet in a secure and welcoming space. Most of the users don't have computers of their own, don't have Internet access, or don't have a place in which they feel comfortable visiting LGBT-related sites. That's why we're so grateful to the David Bohnett Foundation for its generous and continuing support of the CyberCenters."
"Imagine, in 2010, being without a computer—basic activities including job searches, applications for services, educational opportunities and email contact with family and friends would be nearly impossible," said Paul Moore, Program Manager at the Foundation, who oversees the CyberCenter program. "The David Bohnett CyberCenters fill that void by providing free computer access, Internet and learning opportunities. The CyberCenters are typically equipped with 5-10 computer stations loaded with a broad range of updated programs and software for business and personal computing. The CyberCenters also offer community education and training on best Internet practices, online security, and general computer usage."
David Bohnett Foundation
Since 1999, the David Bohnett Foundation (http://www.bohnettfoundation.org) has been committed to improving society through social activism, and has provided funding, state-of-the-art technology and technical support to innovative organizations and institutions. Grants totaling over $35m to date have been given in several primary funding areas: The Fund for Los Angeles, supporting a broad spectrum of arts, educational and civic programs; LGBT-related causes; voting rights and registration initiatives; supporting research and public policies to reduce the toll of firearm violence; and animal research and rights.
David Bohnett serves as Chair of the David Bohnett Foundation; the head of the private equity firm Baroda Ventures and was the founder of GeoCities.com, an Internet based media and e-commerce company in 1994. GeoCities was acquired by Yahoo! in 1999. His goals are improving lives, empowering individuals and building viable communities by connecting like-minded people in meaningful ways. Also central to Bohnett's vision is his call to action to aspiring philanthropists to begin their giving by getting personally involved with causes with which they identify so that they can experience service first-hand.
Press Contact:
Carolyn Campbell
310.659.5427
# # #