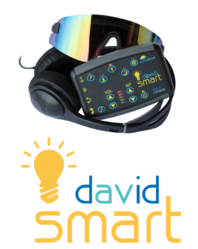 Every school in America needs to have a supply of David Smart light and sound machines for student use. Just imagine how a 15-minute mind to not break spent using light and sound brainwave entrainment could improve learning and test scores in our schools
Los Angeles, CA (PRWEB) February 15, 2013
Fred Williams, an outspoken advocate of the use of light and sound machines in education, officially endorses and recommends the DAVID Smart light and sound machine for use in all US schools. The DAVID Smart is a mind machines that delivers frequency-controlled patterns of light and sound to entrain the user to a specific state of mind.
The DAVID Smart mind machine is a brainwave entrainment device specifically developed for the needs of students. Research has determined that a relaxed focused state of mind is highly conducive to learning and memory retention. The DAVID Smart allows students to tune their minds into a state that is conducive to rapid learning.
"Every school in America needs to have a supply of DAVID Smart light and sound machines for student use. Just imagine how a 15-minute mind to not break spent using light and sound brainwave entrainment could improve learning and test scores in our schools. We need to get the USA back on top in regards to education the use of light and sound brainwave entrainment could do just that.", says Fred Williams, mind machine expert.
The device consists of three parts, the control box, the TruView eye frames and stereo headphones. Because of its simple push-button design it is among the simplest light and sound machines to operate. A single button powers on the unit and then the desired session is chosen from one of the five selection buttons on the control surface. To begin a session the user selects from one of the five session buttons; Energize, Meditate, Brain Booster, Sleep and Feeling Better. Following the selection of the session the user dons the light stimulation glasses and headphones to experience the brainwave entrainment session. The control box also has a set of buttons to adjust the brightness of the light and the volume of the sound. The controls have raised markers making them easy to operate while wearing the eye frames and headphones with eyes closed.