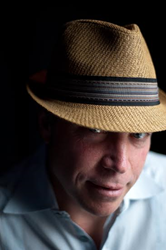 Nice swinging, smooth, and catchy tunes that we like. - Rootstime
Seattle, WA (PRWEB) May 06, 2014
Singer songwriter Dave Ellis releases "Everything In Between," the result of a successful Kickstarter campaign, and his first full-length album in over ten years. After finding success early in his career, opening for bands like Crowded House, Beach Boys, and The Neville Brothers, Dave took a hiatus, started a family, and turned to writing original music for productions like Kent Haruf's Plainsong and David James Duncan's The River Why for Book-It Repertory Theater. After being diagnosed with Parkinson's Disease in 2011, Ellis realized he had an abundance of unpublished songs that needed to be heard.
As an avid member of the Seattle music scene for over 30 years, his previous bands Edison Jones and Dobra Zuby gained high popularity, lighting up major clubs and halls all over the northwestern US. Herb Alpert even covered the Edison Jones hit, "When the Lights Go Down Low." These days, you can also catch Dave Ellis performing as alter-ego "Velvet Ellis" as part of the Buck Owens cover band, The Buckaroosters, at the famous Little Red Hen in Seattle. Happy to return to his acoustic roots, Ellis' solo music has been compared to that of James Taylor, John Mayer, and Marc Cohn. His style is described as "at once accessible, sweet, funky, rootsy, and just plain good." It's no surprise then, that with influences like Gram Parsons, The Allman Brothers, and Stevie Wonder, "Everything In Between" is sure to appeal to a wide variety of listeners.
"Everything In Between" was mixed by Justin Armstrong (Dave Matthews Band) in Seattle, WA. Ellis hopes that his music evokes the feeling of ultimate comfort "like you're sitting in your favorite chair." He says that Everything In Between represents his "broad love of music and lust for living life the way it should be…it's not all about the final destination, it's about everything in between and recognizing what we've collected along the way."
You can learn more about Dave Ellis at http://www.daveeellis.com.
For more information, images, or to arrange for an interview, please contact Melissa Zeigler at Powderfinger Promotions: melissa(at)powderfingerpromo(dot)com.
Powderfinger Promotions–Independent Radio Promotion and Publicity. Since being founded in October 1994, Powderfinger has come to be regarded as a top indie radio promotion and publicity firm with ties across North America.