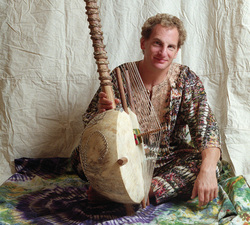 Los Angeles, CA (Vocus) September 28, 2010
World Music artist David Gilden has announced the release of Ancestral Voices, a reissue of the timeless 1990 original recording that will now be available for the first time in digital stores. BFM Digital, a leading digital music aggregator and distributor of independent music, is distributing the album.
A presence in the world of New Age and Yoga music for over twenty years, Gilden has released several recordings that have been featured on NPR and college radio stations throughout North America. His music can be heard on one of the most popular contemporary music programs on public radio, Hearts of Space with host Stephen Hill. Gilden has been featured on WNYC's critically acclaimed music program "New Sounds" as well as in host John Schaefer's book New Sounds: A Listener's Guide to New Music. He has also been interviewed for Voice of America's longest running program, Music Time in Africa that was created by veteran broadcaster Leo Sarkisian and is heard around the world in countries such as Poland, India, Japan and Australia.
Ancestral Voices artfully blends World Music traditions with the 'organic' use of electronic elements. Gilden's ambient World Electronica style is richly layered, utilizing an arsenal of keyboards and incorporating World instruments into a lush musical tapestry resulting in a harmonic blend of traditional and contemporary. Folk instruments of countries around the world from Africa to India lend their voices to create music perfect for yoga practice, meditative retreat or a spa visit.
While most tracks of Ancestral Voices feature Gilden's exceptional mastery of the kora, a West African harp-lute, the title track also showcases the Mbira, a thumb-piano used in Zimbabwean trance music. The album also includes acclaimed musicians such as Jimmy Earl, bass player for Cleto and the Cletones, house band for Jimmy Kimmel Live and Internationally renowned bansuri bamboo flutist Steve Gorn, who contributes a dreamy Indian flavor to three tracks on this beautifully re-mastered album.
David Gilden has been performing music on the twenty-one-string kora with his world music group Cora Connection since the early 90s. After graduating from Berklee College of Music in 1980, Gilden embarked on his kora studies becoming the first American student of Gambian griots Dembo Konte and Malamini Jobarteh. To date, he has traveled to the region a total of nine times, interacting with local musicians and studying with kora virtuosos to perfect his skills. He now performs as a solo artist primarily in the Dallas/ Ft. Worth area at festivals, museums and special events.
Ancestral Voices is available everywhere on September 28th, 2010. To preview the album, please follow this link: http://bit.ly/ancestralvoices
Tracks:
1. Island Journey (4:32)
2. Bantang Ba Kouyate (7:20)
3. Dragonfly Dream (4:13)
4. Harmonic Vista (6:31)
5. Yarabi (4:19)
6. Crossing the Astral Bridge (2:00)
7. Island Solo (3:57)
8. Rights of Man (2:15)
9. Ancestral Voices Part I (5:34)
10. Ancestral Voices Part II (2:55)
11. Pilgrimage to Soma (6:12)
12. Kora Duet (2:25)
13. Temporal Tonic (5:55)
14. Serengeti Sundance (9:05)
For a review copy of the CD, please contact Heather Noonan at BFM Digital: pr(at)bfmdigital(dot)com or 818-761-0191
To view a short video on Gilden's background and music career, please visit: http://bit.ly/9UigZ6
For more information, please visit: http://www.coraconnection.com
About BFM Digital, Inc. BFM Digital is a global digital music company committed to serving the independent music community and delivering quality music, spoken word and video content to leading online retailers worldwide. Representing a diverse catalog of indie labels, artists and publishers, BFM distributes to all of the major music services including iTunes, Amazon, Rhapsody, eMusic, Napster, Walmart, Nokia and many more. With an unparalleled commitment to personalized service, BFM works closely with their content providers from around the world to ensure maximum exposure of their catalog by customizing marketing efforts and building strong relationships with BFM's digital store partners.
###