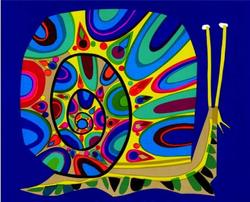 David Klein's works are much imitated and many of his images have become iconic
New York, NY (PRWEB) March 24, 2010
RosieHippo.com, a leading online retailer of unique, classic and heirloom quality natural toys, has become the exclusive supplier of a series of limited edition prints created in 1966 by famous American illustrator David Klein (1918-2005).
Klein is well known for his popular "jet-set" TWA travel art. Throughout his lifetime, he won numerous awards from travel, advertising, illustration and design organizations for his unique, colorful and engaging images. Klein's work has been exhibited at many museums around the world, including the Smithsonian in Washington, D.C. In 1957, his TWA poster of New York City became part of the permanent collection of the MoMA (Museum of Modern Art) in New York.
RosieHippo.com has obtained exclusive distribution rights for the sale of 12 different colorful David Klein illustrations of various animals and birds. The limited edition prints are numbered and authenticated, and are available in two sizes: 12" x 12" and 24" x 24".
"David Klein's works are much imitated and many of his images have become iconic," said Kim Bloom, president and CEO of RosieHippo.com. "These prints are ideal for creating an amazing nursery, child's room or playroom using one or more of these striking, colorful images. We're so excited to have the exclusive right to offer these stunning works of art through RosieHippo.com."
The 12 Klein limited edition prints for sale on RosieHippo.com include vibrantly colored illustrations of a snail, peacock, owl, whale, squirrel, birds, turtle, camel, piggy, bunny, fox and donkey. Prices are $175 for a 12" x 12" unframed print or $325 for a 24" x 24" unframed print.
For more information, visit http://www.rosiehippo.com or call 1-877-57-HIPPO.
About Rosie Hippo:
Rosie Hippo is a leading online retailer of unique, classic and heirloom quality natural toys that allow children to play, learn and grow. The selection of toys and games is appropriate for children of all ages and for entire families to enjoy. The wide variety of toy types include dolls and dollhouses, building toys, toy trains, toy cars, toy trucks, games, puzzles, arts and crafts, push and pull toys, stuffed animals, rattles, balls, blocks, pretend play and more. Rosie Hippo can be found at http://www.rosiehippo.com.
###