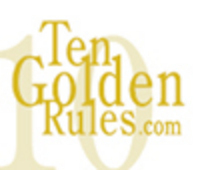 The 10 Golden Rules Internet Marketing Podcast was honored to break the story about an exciting new product launch from such a major Internet rock star like David McInnis
Ferndale, Wash. (PRWEB) March 15, 2009
Jay Berkowitz, producer of the 10 Golden Rules Internet Marketing Podcast recently interviewed David McInnis, CEO of Cranberry, LLC. During the interview McInnis announced the anticipated launch of Cranberry's new PeoplePond online service.
PeoplePond enables people to quickly and easily create an online profile complete with an 'About Me' biography and links to their published content. Using this profile, they can create a verified identity and authenticate their ownership of material on social media sites and elsewhere. PeoplePond's 'About Me' biographies are portable and accessible through third party social media and content platforms through its open ADAM API.
"The 10 Golden Rules Internet Marketing Podcast was honored to break the story about an exciting new product launch from such a major Internet rock star like David McInnis," said Berkowitz.
"Our goal is to do for people what we did for the press release. We are elevating personal brands through a powerful SEO platform," said David McInnis, the innovative mind who conceptualized PeoplePond. PeoplePond, will launch at South by Southwest 2009 (SXSW) beginning March 14th.
About Ten Golden Rules
Ten Golden Rules is an Internet marketing promotion and advertising firm based in Boca Raton, Florida. The search engine marketing consulting firm helps firms develop the best Internet marketing ideas and strategies for driving traffic to your website using SEO tactics and creative ideas for marketing on the Internet. The 10 Golden Rules Internet Marketing Podcast is available at 10 Golden Rules Internet Marketing Podcast and on iTunes. For more information please visit http://www.TenGoldenRules.com.
About Cranberry, LLC
Cranberry, LLC has developed a network of Web sites created by a team of pioneering developers led by Internet visionary David McInnis. McInnis is best known for founding the first direct-to-consumer news service, PRWeb, which changed the way the world uses press releases. WeaveMet and DandyID are also part of the Cranberry network of Web sites. For more information about Cranberry, LLC and the Cranberry network of Web sites visit http://www.cranberry.com.
PRWeb is a registered trademark of Vocus.
###