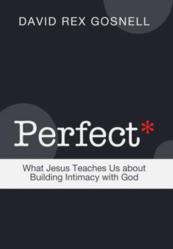 Such a relationship is possible even in today's world, since His power and love are just as strong as ever.
DUNEDIN, Fla. (PRWEB) April 08, 2013
With the publication of his new guidebook "Perfect*: What Jesus Teaches Us about Building Intimacy with God" (published by CrossBooks), author and minister David Rex Gosnell invites readers to adopt the Model Prayer and find a closer, more intimate faith experience.
The major theme of "Perfect*" is intimacy with God: what it takes to have it, and the results and benefits it brings. Gosnell uses the framework of the Model Prayer in Matthew 6:9-13. By examining each phrase of this prayer, readers learn what is most important to God, how they fit in His redemptive plan and why intimacy with Him is so important.
An excerpt from "Perfect*":
"Intimacy requires love, commitment, and communication. It's based on sharing life together. A genuinely intimate relationship with another human being is both fulfilling and valuable and can be one of life's greatest joys.
But have you ever wondered what an intimate relationship with God would be like? To talk with the Creator face to face? To be one in mind and heart with the Almighty? To share love, commitment, and communication with their inventor?"
"God truly desires an intimate relationship with each of His children because He's passionate about them," Gosnell says. "Such a relationship is possible even in today's world, since His power and love are just as strong as ever."
"Perfect*"
By David Rex Gosnell
Hardcover | 6 x 9 in | 198 pages | ISBN 9781462725526
Softcover | 6 x 9 in | 198 pages | ISBN 9781462725502
E-Book | 198 pages | ISBN 9781462725519
Available at Amazon and Barnes & Noble
About the Author
David Rex Gosnell is the former pastor of New Hope Community Church in Dunedin, Fla., and a lifelong Bible student and teacher. He and his wife, Mary, live in Dunedin, where he teaches an adult Bible study and leads his church's men's ministry.
For more information visit his website at http://www.DavidRexGosnell.com.
CrossBooks, a division of LifeWay Christian Resources of the Southern Baptist Convention, is a Christian publishing imprint committed to bringing more Christian voices into the publishing industry. Established authors, first-time authors, and authors anywhere in between can meet their goals and fulfill their vision for their books by publishing with CrossBooks. CrossBooks' innovative style of publishing blends the best of traditional and self-publishing. While our authors contribute monetarily to cover the cost of publishing, we maintain a strict moral and quality standard that every manuscript must meet for us to publish. For more information on publishing your Christian book with CrossBooks, log on to crossbooks.com or call 1-866-879-0502.