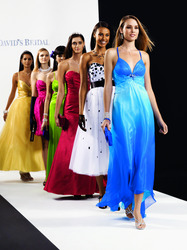 When shopping for a prom dress, the key is for girls to embrace the colors and silhouettes that best complement their body type and complexion
Conshohocken, PA (PRWEB) March 13, 2009
Lights! Camera! Fashion! No matter the occasion - from Prom and Quinceañera to Homecoming and Sweet Sixteen - teens are taking their cue from the red carpet and discovering unique ways to let their personality shine. With the economic climate greatly impacting prom budgets, David's Bridal is happy to help girls show off their signature look "in style", without spending a fortune - something that will make both teens and their parents smile. David's exclusive, high fashion dresses and accessories allow this season's "IT" girls to express their individuality, ensuring they'll look like they stepped off the pages of their fave magazine.
To help them along the way, celebrity stylist Jeanne Yang - whose stylish, A-list clients have included Angelina Jolie and Renee Zellweger - shares her expert advice to ensure prom girls achieve stand-out style. "When shopping for a prom dress, the key is for girls to embrace the colors and silhouettes that best complement their body type and complexion," said Yang, a member of the David's Bridal Style Council, which will be launching later this month. "With a fashion-forward prom collection that is refreshingly affordable, David's Bridal's stunning dresses and accessories easily allow prom girls to create their ultimate 'red carpet' look, just like their favorite celebrities."
David's amazing selection of reasonably priced, runway-inspired dresses and accessories no doubt suit every personality, from hip and edgy to classic and chic. The hottest looks are all available at the special-occasion authority's more than 300 stores nationwide, as well as on http://www.davidsprom.com, a site that also boasts exclusive online dress and accessory collections. To stay on top of the season's must-haves, Jeanne Yang and David's Bridal's style experts offer insight into the latest fashion trends:
Eye-Popping Prints
Showcase your personal style by choosing a sophisticated dress with a fun and playful twist. Taking a cue from Maggie Gyllenhaal at this year's Golden Globes, striking graphic, animal, floral, and ombré prints can create a dramatic look. Available in classic and more fashion-forward silhouettes, these on-trend designs ensure attention both on and off the dance floor. A fun zebra print trumpet halter dress with a bold green empire waist (style D19871; $189) is the perfect example of this exciting trend that beckons the spotlight. Another Hollywood hint: while Maggie has nothing to hide, the best thing about a print is that it can camouflage any body flaws. To accent the look, girls can transform simple accessories by layering bangles and necklaces and pairing a chic clutch with metallic strappy-sandals.
Classic Silhouettes Make a Stylish Comeback
As Queens of the fashion elite, Angelina Jolie and Sarah Jessica Parker's stunning Oscar looks exemplify that classic silhouettes are a fantastic way to stand out. A slim, sleek silhouette or a princess style with a full crinoline skirt, in both short and long lengths, are award winning looks for any body type. A sweet but classic yellow spaghetti strap, tulle dress adorned with a sparkling buckle and lace-up back (style 310838 $169) is the new ball gown of the season. Prom goers can play up their favorite features with a red carpet-inspired one-shoulder or halter style. Exquisite details and fabrics such as satin, taffeta, charmeuse, or organza will help channel a girl's inner Carrie Bradshaw or Mrs. Smith. Bold earrings, layered necklaces and short or full-length gloves - a trend making a huge comeback this season - are ideal finishing touches.
Be Bold in Brilliant Hues
This season's vibrant color palette - as beautifully worn by Kate Winslet, Eva Longoria Parker and Christina Applegate during recent awards shows - offers an unparalleled selection of fresh favorites to flatter every skin tone and personality. Radiate in intense neons and energized jewels or put a personal spin on the classics in a primary or neutral-colored number. A striking short fuschia bubble dress in a flirty organza burnout pattern (style 635963; $149) is a great choice for someone looking to make an entrance. For those with mod on the mind, intense yellows, deep purples, stunning metallics and black and white classics are the perfect fix. To top it off, pair a contrasting bag and shoes with chunky jewel bracelets and earrings to ensure perfect color karma.
Dare to Bare It
For an unforgettable Hollywood siren look, consider a dress with a daring back detail, such as a stunning, silky lime spaghetti strap dress with an X-back feature (style 422717; $119). Dramatic details such as cutouts or a low, open back, which Heidi Klum and Jennifer Lopez both recently rocked on the red carpet, create cutting-edge silhouettes. For a more demure style, a gorgeous train will guarantee a show-stopping entrance. Less is more with this trend, so delicate earrings, dazzling peep-toe shoes and a sleek handbag go the distance to complete her style.
A Quinceañera to Remember
For this important milestone, selecting the right gown is paramount. Strapless, halter and spaghetti strap necklines remain strong favorites while modern, elegant embellishments add new flavor to beautifully classic styles. Whether opting for a traditional white or ivory design or choosing a bold and colorful accent - such as a ribbon that comes in 31 different colors-to go around the waist of a beautiful strapless satin pick-up gown (style T9309; $399) - there's a style to reflect every personality. Adding a regal tiara, sparkling jewelry and dramatic gloves will finish an unforgettable ensemble.
Win A Scholarship and Prom Dress from David's
Prom-bound teens can get a sneak preview of how they'll look on the big night by checking out the Promtourage virtual prom fashion gallery at http://www.davidsprom.com, where they can experiment with styles, colors and accessories and share their perfect vision with friends. And from now until March 25th, girls can win big prizes by entering the online "Dream Dress, Dream Big" contest (davidsprom.com/dreamdresscontest). Aside from creating a fab prom look, the contest asks entrants what cause is important to them and how they plan to make an impact using their own unique personality. Prizes include a $5,000 scholarship, a $400 David's Bridal shopping spree and a limo to take them, and their friends, to prom - a surefire way to make a style statement inside and out! The winner will also have the chance to have their dress shopping experience filmed and featured on davidsprom.com, as well as the opportunity to blog about the experience on the site.
Looking for more online fun? Girls can check out the weekly fashion-focused surveys on davidsprom.com that allow them to share their thoughts and see what other teens are thinking as they plan for Prom night. According to a recent survey, 34% of respondents said they would choose a red-carpet, Emmy's inspired-look if a celeb stylist offered to dress them for prom - how glam! More fun stats can be viewed at http://www.davidsprom.com/surveys.jsp.
After the event, the fun isn't over! Prom goers can submit a photo to show how fabulous they looked in their David's prom dress for a chance to be featured as a real "IT Girl" on the website. This section also provides inspiration to see how real teens personalize and accessorize their look.
David's Bridal Prom and party dresses range in price from $89-$289 and are available in sizes 0-26. Quinceañera gowns are available in sizes 0-26W and range in price from $250 - $1000. Keeping costs budget-friendly, teens will receive 10% off accessories they purchase on the same day as their David's dress, ensuring a glamorous and affordable head-to-toe look!
With more than 50 years of experience, David's Bridal understands the importance of providing teens and brides-to-be with a vast selection of exquisitely crafted dresses, available at affordable prices. Today, with over 300 locations nationwide, David's Bridal continues to expand its retail store locations, while maintaining its philosophy of superior quality, value and service. To locate a store nearby, consumers can call 1.877.706.PROM or visit http://www.davidsprom.com.
# # #