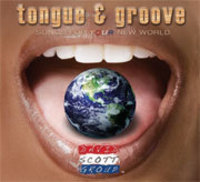 Wilmington, NC (PRWEB) May 20, 2009
The David Scott Group is pleased to announce that starting May 20th, after over ten years in the making, their newest album, "Tongue & Groove" -- Songs for Your New World -- will be able to be purchased through iTunes, Rhapsody, Amazon mp3, ShockHound and more.
'Tongue & Groove' is the timely release of eleven tracks by the David Scott Group, packed with the rebirth of Rock/R&B/Pop song writing with infectious grooves, memorable hooks and ballads that will define today and will be a part of redefining a direction for tomorrow's music in the next decade. A slick, stealth studio album featuring the freight train knockout punch that can only be delivered from New York's NBC's Late Night with Conan O'Brien musicians: Jerry Vivino, Mark Pender, and Richie 'LaBamba' Rosenberg who recently backed up Bruce Springsteen at the Super Bowl and have now moved with Conan O'Brien for the new NBC "Tonight Show".
'Take Me America' is the premier single/music video release from 'Tongue & Groove' and the video features over 400 historical American images that are matched to a timely message for the world. This video is a 'must see' for all and the trailer can be viewed for free at the David Scott Group website: http://www.david-scott-group.com.
'Take Me America' is the first single among many from 'Tongue & Groove' that are destined for recognition in the upcoming Grammy's, VH1, MTV awards for its timely message, performances and production as a contender for album of the year. They are an awesome and inspiring needed stimulus of songs that will get us feeling good, back on our feet, moving forward, matching inspiration and memories with these timeless songs.
Music and videos from the David Scott Group, including the first single/music video release, 'Take Me America' and all eleven tracks of 'Tongue & Groove' can be found, purchased and downloaded through: iTunes; Amazon MP3; Rhapsody or ShockHound. The physical CD single/DVD music video of Take Me America" and the physical album "Tongue & Groove" can be purchased at CDBaby.com for immediate delivery while inventory lasts. Please allow ten days for receipt of back orders.
The video for the single of 'Take Me America' can be viewed on YouTube. Fans of the David Scott Group can follow them and look for upcoming announcements on Face Book, MySpace and Twitter. Welcome to the next generation of music.
###