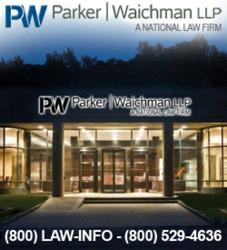 [Intuitive Surgical's] notification regarding the faulty scissors occurs in the face of an ongoing lawsuit against the medical device maker...
New York, New York (PRWEB) May 10, 2013
Parker Waichman LLP, a national law firm dedicated to protecting the rights of victims injured by defective medical devices, is commenting on a notification that Intuitive Surgical, maker of the da Vinci surgical robot, issued to hospitals and other customers on May 8, 2013, regarding an "urgent medical device notification" regarding "a potential issue" with the da Vinci surgical robot. The alert revealed that some models of the da Vinci monopolar curved scissors have "micro-cracks" in them that can create "a pathway for electrosurgical energy to leak into tissue during use and potentially cause thermal injury."
The notification also revealed, in bold type, that the "micro-cracks may not be visible to the user."
The notification added that the company "apologizes" for this inconvenience and will inform its clients "immediately" as to when scissors "without the potential for micro-cracks are available for replacement." Meanwhile, the company included in the notification a list of precautions and warnings for using the EndoWrist monopolar curved scissors.
"It's certainly great to hear that Intuitive Surgical has taken responsibility in notifying hospitals and other clients about the defect it has discovered in some of its monopolar curved scissors," said Gary Falkowitz, Managing Attorney at Parker Waichman LLP. "I can only hope that Intuitive is as proactively vigilant and responsive regarding any other potential issues that may influence the da Vinci's ability to successfully assist with an operation on a human being."
Parker Waichman LLP offers free legal advice to patients who suffered injuries that may have been caused by the robotic system and is actively seeking cases.
The company's notification regarding the faulty scissors occurs in the face of an ongoing lawsuit against the medical device maker, entitled the Estate of Fred E. Taylor v. Intuitive Surgical, 09-2-03136-5, Superior Court, State of Washington, Kitsap County (Port Orchard). It alleges it failed to properly train surgeon Scott Bildsten, who performed a robotic prostate removal on Fred Taylor, who allegedly died as a result four years later, as reported by Bloomberg on May 8, 2013. The trial is in its fourth week.
Intuitive's da Vinci system is currently the only approved robotic surgical device for use on soft tissue in the United States. According to the May 8 Bloomberg report, Taylor's lawsuit is the first of at least 26 lawsuits against Intuitive over injuries allegedly caused by the robot. In light of mounting injury reports, the Massachusetts Board of Registration in Medicine issued an advisory warning of complications on March 16, 2013. The state's board cited cases of complications, including bleeding, adhesions, damage to the bowel and ureter, and one specific case in which a piece of rectal tissue was left inside the patient's abdomen.
Parker Waichman LLP continues to offer free legal consultations to alleged victims of da Vinci surgical robot injuries. If you or a loved one experienced surgical burns, perforated or torn organs, torn blood vessels or other injuries that could be associated with the da Vinci surgical robot, please contact their office by visiting the firm's da Vinci Surgical Robot Lawsuit page at yourlawyer.com. Free case evaluations are also available by calling 1 800 LAW INFO (1-800-529-4636).
Contact:
Parker Waichman LLP
Gary Falkowitz, Managing Attorney
(800) LAW-INFO
(800) 529-4636
http://www.yourlawyer.com