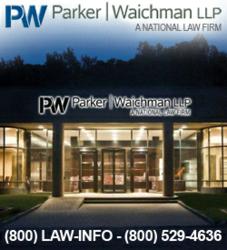 "What should've been a routine procedure turned out to be far from routine, and this was because the surgeon had used a da Vinci robotic device to assist him," said William J. Dubanevich, attorney at Parker Waichman LLP.
(PRWEB) April 30, 2013
Parker Waichman LLP, a national law firm dedicated to protecting the rights of victims injured by defective medical devices, is commenting on an expert witness's testimony in the case of the Estate of Fred E. Taylor v. Intuitive Surgical, 09-2-03136-5, Superior Court, State of Washington, Kitsap County (Port Orchard). An April 29, 2013, Bloomberg report* noted that John S. MacGregor, a cardiologist and professor of medicine at University of California, San Francisco, told the jury that the alleged "stress and complications" brought on by a protracted da Vinci-assisted prostate operation allegedly "hastened a patient's death from heart disease."
The patient, Fred Taylor, not only might have lived an additional five years, but could have enjoyed a better-quality lifestyle as well "had he never suffered the consequences of the botched robotic procedure in 2008," the doctor alleged, as noted in the Bloomberg report. The state court trial in Port Orchard, Washington, has entered its third week.
According to the Bloomberg report, MacGregor pointed out for the jury that based on Taylor's autopsy results, he had suffered a number of heart attacks in the last several years of his life, and likely had even suffered an attack the day after his Sept. 9, 2008, robotic surgery. Blood enzyme tests that measure heart-muscle damage had risen "dramatically" the day following Taylor's surgery, the doctor added.
"What should've been a routine procedure turned out to be far from routine," said William J. Dubanevich, attorney at Parker Waichman LLP. "When it was finally over, Mr. Taylor was forced to live out the remainder of his life suffering from a variety of ailments. From his autopsy results we now know that he also suffered heart attacks following his surgery."
Parker Waichman LLP offers free legal advice to patients who suffered injuries that may have been caused by the robotic system and is actively seeking cases.
The lawsuit now on trial alleges that Intuitive failed to properly train surgeon Scott Bildsten, who performed a robotic prostate removal on Fred Taylor, according to Bloomberg**. Bildsten, who had never performed robotic surgery unsupervised prior to Taylor's prostate removal, allegedly struggled with the da Vinci for seven hours in September 2008. He eventually reverted to traditional, and then emergency, surgery to fix a rectal laceration. Taylor died last August of heart failure allegedly caused by complications from his da Vinci robotic surgery.
Intuitive's da Vinci system is currently the only approved robotic surgery in the United States. Bloomberg reports that Taylor's lawsuit is the first of at least a dozen to go to trial over injuries allegedly caused by the robot. In light of mounting injury reports, the Massachusetts Board of Registration in Medicine*** issued an advisory warning of complications last month. The state's Board cited cases of complications including bleeding, adhesions, damage to the bowel and ureter, and one specific case in which a piece of rectal tissue was left inside the patient's abdomen.
The Massachusetts Board of Registration in Medicine is not the only group to express concerns about robot-assisted surgery. Last month, the president of the American Congress of Obstetricians and Gynecologists (ACOG)**** warned consumers that there is no strong evidence showing that the da Vinci is the best option for a minimally invasive hysterectomy, nor is it the most cost efficient. ACOG President James T. Breeden also warned consumers to not be swayed by aggressive advertising, according to a CNBC report.

**http://www.bloomberg.com/news/2013-04-18/intuitive-marketed-robot-to-limited-skill-surgeons-witness-says.html
***http://www.mass.gov/eohhs/docs/borim/physicians/pca-notifications/robot-assisted-surgery.pdf
****http://www.cnbc.com/id/100554849
Parker Waichman LLP continues to offer free legal consultations to alleged victims of da Vinci surgical robot injuries. If you or a loved one experienced surgical burns, perforated or torn organs, torn blood vessels or other injuries that could be associated with the da Vinci surgical robot, please contact their office by visiting the firm's da Vinci Surgical Robot Lawsuit page at yourlawyer.com. Free case evaluations are also available by calling 1 800 LAW INFO (1-800-529-4636).
Contact:
Parker Waichman LLP
Gary Falkowitz, Managing Attorney
(800) LAW-INFO
(800) 529-4636
http://www.yourlawyer.com