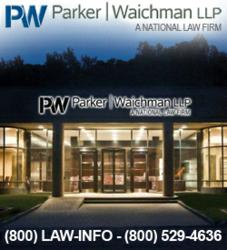 "Training protocols and procedures are and remain key issues in this litigation," said William J. Dubanevich, attorney at Parker Waichman LLP.
New York, New York (PRWEB) May 10, 2013
Parker Waichman LLP, a national law firm dedicated to protecting the rights of victims injured by defective medical devices, is commenting on an expert witness's testimony in the case of the Estate of Fred E. Taylor v. Intuitive Surgical, 09-2-03136-5, Superior Court, State of Washington, Kitsap County (Port Orchard). A May 8, 2013, Bloomberg report noted that Kate Lederer, a training specialist with the Sunnyvale, California-based company, testified that she had continued teaching "in explicit detail" all 23 skills on a checklist for surgeons that Intuitive Surgical had sent to the U.S. Food and Drug Administration (FDA) in 2000, when the company was seeking approval to sell its da Vinci robotic surgical systems.
But under cross examination, the Plaintiff's attorney pressed her on the question of whether the company went beyond teaching equipment skills and into clinical training, according to the Bloomberg report, to which she replied that she only taught doctors how to use the robots, not how to operate on patients. "It's expected surgeons understand surgical techniques, regardless of da Vinci or non-da Vinci," she testified, as quoted in the Bloomberg report.
Training is among the key drivers of the two dozen or so lawsuits that have been filed against Intuitive, according to the May 8 Bloomberg report. The lawsuit now on trial alleges that Intuitive failed to properly train surgeon Scott Bildsten, who performed a robotic prostate removal on Fred Taylor, according to an April 19, 2013, Bloomberg report. Bildsten, who had never performed robotic surgery unsupervised prior to Taylor's prostate removal, allegedly struggled with the da Vinci for seven hours in September 2008. He eventually reverted to traditional, and then emergency, surgery to fix a rectal laceration, according to Bloomberg. Taylor died last August of heart failure allegedly caused by complications from his da Vinci robotic surgery.
"Training protocols and procedures are and remain key issues in this litigation," said William J. Dubanevich, attorney at Parker Waichman LLP. "Was Intuitive's training regimen sufficient and in compliance with what they informed the FDA they were going to be doing?"
Parker Waichman LLP offers free legal advice to patients who suffered injuries that may have been caused by the robotic system and is actively seeking cases.
The da Vinci is facing critics from other corners. According to a report in the Missoulian April 16, 2013, the U.S. Food and Drug Administration (FDA) is looking into a spike in reported problems based on a survey the regulator gave to surgeons using the device earlier this year. The agency conducts these kinds of medical device surveys of routinely, according to the Missoulian, but an FDA spokeswoman told the newspaper that the reason for it now has to do with, "the increase in number of reports received," about the da Vinci. At least five deaths have been included in reports filed about the da Vinci since early last year, the newspaper reported.
Parker Waichman LLP continues to offer free legal consultations to alleged victims of da Vinci surgical robot injuries. If you or a loved one experienced surgical burns, perforated or torn organs, torn blood vessels or other injuries that could be associated with the da Vinci surgical robot, please contact their office by visiting the firm's da Vinci Surgical Robot Lawsuit page at yourlawyer.com. Free case evaluations are also available by calling 1 800 LAW INFO (1-800-529-4636).
Contact:
Parker Waichman LLP
Gary Falkowitz, Managing Attorney
(800) LAW-INFO
(800) 529-4636
http://www.yourlawyer.com