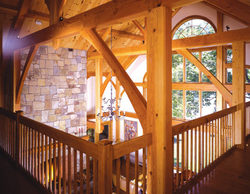 Claremont, NH (PRWEB) June 25, 2008
Davis Frame Co., a premier custom timber frame home company specializing in energy efficient design, has added to their in house sales force to keep up with continued demand of their product.
In order to meet the demands of the continued growth at Davis Frame Company, a new in-house representative has been hired. Cory White, who spent the past nine years with Hilti, recently accepted a position with Davis Frame as a Project Coordinator with a focus on the builder referral program.
The builder referral program serves to match builders and clients with the Davis Frame product. When builders have a project that could be a timber frame home, addition, or commercial building, they can bring the client to the company and utilize their designs and expertise. As a builder, some of the reasons to work with Davis Frame Co. include:

Earn a commission on a sale of a Davis Frame package.
Utilize and promote the company's full design service.
Gain exposure through Davis Frame's national brand recognition
Receive high-quality handouts and marketing material from Davis Frame.
Promote a unique service - timber framing.
Green design and building capabilities, knowledge and products.
Technical advice or on site services for assembly by Davis Frame.
Take part in a growing industry.
Listed as a builder in the Davis Frame database to be passed along to potential clients.
Tap into the wealth of knowledge and experience available to you at Davis Frame!
Davis Frame is very exited about Cory's new role and he states that he's looking forward to working with both builders and clients in the future. For more information, please visit their web site at:

If you are a builder and have more questions on the program, please feel free to call the company and ask for Cory or Seth: 800.636.0993
About Davis Frame Company:
Specializing in energy efficient designs, Davis Frame Company is a leading designer and manufacturer of custom timber frame and post and beam homes. Timber frames of reclaimed or new Douglas fir, oak or pine are individually planed and crafted using traditional mortise and tenon oak pegged joinery, chamfered edges and curved braces. Davis Frame offers many standard designs to fit a cost-conscious budget. Clients can also work with the company's in-house design staff to develop a home that fits one's land and lifestyle. From the beginning of the design process to the moment you step into your timber frame home, Davis Frame Company will help to ensure that your new home is whatever you want it to be. Come check us out today and let us be a part of your next dream home.
# # #