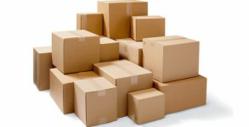 we'd also like to hear what people have to say about Davpack, the service we're offering and about the blog in general
Derby (PRWEB UK) 1 June 2012
Customers are getting more and more choice as increasing numbers of low cost, top quality packaging products are made available to them. Another major step towards integration with new parent company Ratioform will be taken, when staff head over to Munich to cast a glance over the state-of-the-art German head office and central warehouse facility.
And the Davpack packaging blog has gone live, bringing a mixture of advice, interesting information, tales from the packaging sales front line and off-the-wall observations to its readers. The blog is being written by a group of the company's marketeers, salesmen and women, reps and consultants, who will be sharing their enviable accumulation of packaging experience and knowledge. Articles so far include little known facts about the development of key packaging products, an environmental guide to plastic carrier bags and an exploration of the concept of edible packaging.
One recent post explains how Davpack's Customers can save up to 40% off their next order, thanks to the discounts made on hundreds of packaging products. Prices have been slashed on a wide range of items, including 20% off some Jiffy bags, 30% off certain postal boxes and 40% off selected cardboard boxes. And anyone commenting on that blog post will automatically receive an extra £5 off their next order worth over £150!
Davpack's Managing Director Terry Davenport explained the thinking behind the promotion: "It's going to be a big summer in the UK with both the Jubilee and the Olympics. We wanted to add to the air of celebration by passing on some of our own good fortune to our Customers. Cutting the cost of their packaging materials seemed a good way of doing that!"
"But we'd also like to hear what people have to say about Davpack, the service we're offering and about the blog in general. We want to encourage our Customers to read what we're saying and tell us if they find it useful, interesting or even entertaining. The £5 offer is a bit of an incentive, but is really just the start; we're looking at putting in a whole series of promotions through the blog so we can engage even more with our Customers."
Alongside the blog, it's also now possible to follow Davpack on Facebook, YouTube and Twitter, giving the company an even higher profile and allowing Customers even quicker access to the money saving offers that will be available throughout the summer.