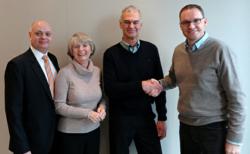 "We have been very impressed with Davpack's performance over the last few years. Their lean, efficient business model and dedication to low prices, fast order turnaround and the best in Customer service ties in exactly with our own approach."
Derby (PRWEB UK) 13 March 2012
Like Davpack, Ratioform was for many years very much a family business. Founded in 1979 by Thomas Krieg and his father Heinz, it operated with numerous franchised regional sales offices and grew steadily during the 1990s, establishing further outlets in Austria, Italy and Spain.
Ratioform celebrated the new millennium by building an ultra-modern headquarters and central distribution facility in Landsham, on the outskirts of Munich. By 2002 the Company had firmly established itself as the number one mail order packaging supplier in Germany.
In 2006, new investment and a new management structure were required as Thomas Krieg decided to withdraw from daily involvement. The long term goal was to strengthen the Company's position through further acquisitions. The solution was a management buyout, with financial support from Equistone Partners Europe. As part of the deal, Michael Vollmer moved up from Managing Director to Shareholder.
Since 2006, Ratioform has continued to grow its online packaging materials store and has expanded further across Europe into Switzerland. During 2011, Michael Vollmer concentrated on consolidating the German operation by taking over the 8 German franchisees. Today, with around 300 staff and over 250,000 satisfied Customers, it's a major supplier of packaging products right across the continent. Now, with the acquisition of Davpack, Ratioform also has a firm presence in the UK.
When Michael Vollmer first approached Terry Davenport, Davpack's Managing Director, with their proposal, Terry knew immediately that this was a company he could do business with.
"There's an obvious synergy between the two companies," says Terry. "In terms of history and business model, we have so much in common that bringing the two together seemed the natural thing to do."
Michael Vollmer also recognised a fellow entrepreneur in a company which had more than doubled in size during the recession. "We have been very impressed with Davpack's performance over the last few years. Their lean, efficient business model and dedication to low prices, fast order turnaround and the best in Customer service ties in exactly with our own approach."
Not that anyone's going to be complacent. Michael Vollmer is determined to build on Davpack's success in the UK and to apply some of its methods right across the group. "This is good news for Ratioform in Europe and for Davpack in the UK. Each will be stronger as a result of this deal and we're looking forward to bringing the best value packaging materials to even more businesses as a result."
As Terry Davenport contemplates life without the company his father started 45 years ago, he is nonetheless able to do so with the confidence that he leaves it in safe hands and that his brother Paul will continue as Sales Director.
"Although it's going to be extremely hard to move on, I'm very happy that Michael and Ratioform will carry on the good work and that the wonderful team I've worked with all these years will be looked after in the way they deserve."