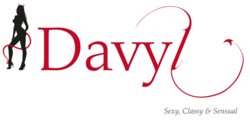 Davyl has managed to create a perfect blend of sexy, classy and elegant all rolled into one.
(PRWEB) April 17, 2013
A brand new range of lingerie and swimwear from Davyl (http://www.davyl.com) has just been launched for women who want to feel sexy, feminine and empowered. Challenging the usual choices available for women, often too girly or just dull and predictable, Davyl has managed to create a perfect blend of sexy, classy and elegant all rolled into one. The result is beautiful clothing that enhances one's natural beauty and femininity.
This range will be appreciated by any woman who rejects all that is ordinary and who believes in revealing her most alluring side. The clothing is aimed at independent women who dare to be a little audacious and who wish to free their passionate side.
The principle range features tasteful lingerie made from delicate fabrics that will delight the senses and hug the curves - from smooth and silky to sheer and wispy. A second range features pretty, highly feminine swimwear that accentuates the female form. Both ranges are available in attractive colors and designs with prices starting at €50.00 (around $65.00) and are delivered beautifully packaged to give a boutique feel. Worldwide delivery is available for all Davyl products.
Davyl is the creation of Davy Wauters, a passionate and fashion conscious young entrepreneur from Belgium who respects women and believes that everyone has the right to feel beautiful. It is thanks to his creative energy, dedication, vision and drive that this range was born. Davy says, "It took a great deal of planning and hard work but seeing the first ranges, I feel that I have achieved my goal – to make women feel beautiful, sexy and confident in their skin." On launching the business Davy adds, "I hope that this will inspire others and show that they too can live their dream – providing they have a clear vision and are prepared to work hard of course. To me innovation is the key to success".
Davy has not stopped there, the clothing line is part of a bigger concept which focuses on giving women an online community via an interactive lifestyle magazine (http://www.davylmagazine.com) that provides a fun forum to exchange ideas, share tips, learn about the hottest places in town, the latest fashions, accessories and more.
Three new collections are planned for the future: a collection of high-heeled shoes; a 'Daytime' collection with jeans, belts, tops, t-shirts, shorts, hats, and a 'Nightlife' collection with dresses, skirts, tops and shorts.
It is through the online magazine that Davy looks forward to receiving valuable female input for his clothing range, ensuring that it is always completely in line with what women want, which in the end, is all about feeling good.
About Davyl
Founded in 2013 by Davy Wauters, Davyl has the mission to provide women with fun, stylish and sexy clothing that makes them feel beautiful.
To learn more about Davyl visit: http://www.davyl.com or http://www.davylmagazine.com
To see the making of the Davyl photo shoot, click here: http://www.youtube.com/watch?v=pSYz_zbBY-I
Contact:
Davy Wauters
Davyl Organization Ltd.
Tel: +32 487 536 869
Email: dw(at)davyl(dot)com