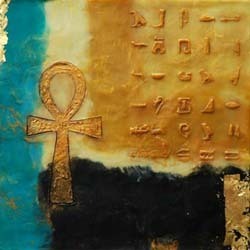 They make really wonderful gifts for people of all walks and ages - everyone I've given them to has been beyond tickled!
San Miguel de Allende, Mexico (PRWEB) December 1, 2008
Dawn Gaskill, a resident of San Miguel de Allende, translates ancient symbols and belief systems into contemporary art made to inspire the realization of personal intentions. At the invitation of the Dallas Museum Store she will make a visit in conjunction with the King Tut and the Golden Age of the Pharaohs exhibition to feature her Egyptian Series of encaustic work and hand-made useable art, such as hand painted journals. One of Gaskill's favorite travel destinations is Egypt. She says that each sojourn to Egypt inspires her to create new and uniquely powerful pieces of art. During her appearance from 10:00 a.m. to 6:00 p.m. on December 5 and 6, you will have the opportunity to learn how her own intentions in creating a piece of artwork is specifically focused to support others into joyfully attracting their intentions and achieving goals in all areas of life -- love, health, abundance, creativity, family, and in achieving spiritual goals of wholeness and balance.
Gaskill, who presented her Feng Shui Series at the Dallas Museum of Art in 2005 says, "As everyone who sees King Tut and the Golden Age of the Pharaohs exhibition will experience, there is a magic and mystery in ancient Egypt that captivates and calls to us all. My most recent paintings have been done using the ancient technique of encaustic. The oldest encaustic paintings were found in the tombs in Fayoum Oasis, Egypt. The encaustic technique especially allows layering of images. Stories within stories are layered within each piece of my mixed media artwork, bringing a fresh perspective to ancient designs and concepts." Her Egyptian Series is imbued with the deities, goddesses, colors and symbols that vibrate with meaning across time from Sekhmet in representing personal powers to reminders of balance and truth reflected in rich lapis borders of some of the works.
"The same principles that I use to create my symbolic and Intentional Artwork has received enormous publicity recently with the acclaimed book and DVD "The Secret", Gaskill explained. "The vibration of my artwork images is created while I chant the intentions into them, which helps with the law of attraction…which says that like is drawn unto itself… that what you focus on...you create more of in your life."
Using her art pieces (http://www.dawndesigns.com/index.php?/gallery/main/C3/) as a focal point or touchstone, Gaskill says that people will have a powerful tool for manifesting their intentions for prosperity, health, career, love, family, relationships and personal growth... any aspect of life. Her images can be enjoyed on a daily basis, whether in the form of a richly layered encaustic painting or in the form of her greeting cards, hand painted journals, address books, and business card/credit card cases.
Each of Gaskill's pieces is accompanied by a description of her inspiration and the symbolism held within the piece. "This time of year, when people are thinking about highly personal, inspirational and very reasonably priced holiday gifts, I know a visit with Dawn Gaskill at the Dallas Museum Store will be very rewarding," said Kathleen Mulligan, who has purchased hand painted journals from Gaskill. "They make really wonderful gifts for people of all walks and ages - everyone I've given them to has been beyond tickled!"
Gaskill's original paintings (http://www.dawndesigns.com/catalog/index.php?cPath=3D2=) are sold world-wide from her gallery in the Instituto Allende, the historic school of art, in San Miguel de Allende, Mexico. For more information: http://www.dawndesigns.com.
Contact information:
Dawn Gaskill
214-628-0595 or 214-329-4484
Images Attached: Ankh encaustic painting
###