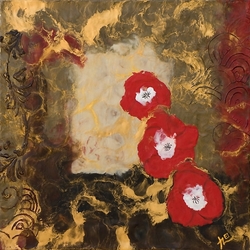 We are absolutely thrilled to have Dawn with us
San Miguel de Allende, Mexico (PRWEB) June 9, 2009
Artist Dawn Gaskill is proud to announce her new exhibit, a series of symbolic paintings entitled "Awakening Intentional Encaustic Art," opening June 18 and running through the 21st at the Moses Art Gallery in Dallas.
Dawn, a resident of San Miguel de Allende, Mexico, translates ancient symbols and belief systems into contemporary art made to inspire the realization of personal intentions. She paints in the encaustic method with a rich color palette created from powdered pigments she has collected from across the world. "The ancient encaustic technique, originally used in Greece and Egypt over 4,000 years ago has opened the path to painting images the way they appear to me…to layer images which become luminous, iridescent and can be carved into or built up into multi levels allowing me to create stories within stories which help people to manifest their intentions through the symbols and colors used in a fresh perspective of ancient designs and concepts. I've been creating this show of intentional artwork to be even more personal for the individual who will use it to focus on joyfully attracting their intentions and achieving goals in all areas of their life -- love, health, abundance, creativity, family, and in achieving spiritual goals of wholeness and balance."
Dawn chants and meditates daily. "During these meditative states the works come into my mind's eye as complete visions almost demanding to be expressed. For this exhibit I painted what resonated with me including the red poppy, which in ancient times represented the promise of resurrection in Greece and Rome, but conversely in other cultures it represents sleep. This combination of knowing that one is the creator of dreams, yet must come out of the dream and awaken to all experience to express and manifest opportunities for love is the focal point of the poppy in the Awakening exhibit. While painting I focused on how the poppy represents joy, divinity within, growth and transformation."
While working on her current exhibit, "Awakening", an idea that had been challenging Dawn for a long time was resolved. "I really wanted people to be able to have my artwork in many symbols that resonated with them - to be able to mix symbols and colors into compositions as their intentional meditations changed to reflect their needs. So, I began working on 4" x 4" tiles. It was perfect for this! These multi-layered Intentional Art Tiles can become a single focal point for intentions or be used in multiples as a meaningful collection of personal symbols." Ninety exquisitely painted Intentional Art Tiles will be presented for the first time during the Awakening exhibit, and Dawn will give a presentation on how to use art to create sacred spaces that manifest intentions using this new collection.
In addition to the poppy, Dawn's exhibit will include expressions of the Buddha and Boddhisattvas, Egyptian symbols such as Sekhmet the Powerful One and Hathor Goddess of Love Beauty and Pleasure; White, Green and Red Taras, Astrological signs and divine symbols; and from the Indian culture Ganesha Guardian of Gateways, Remover of Obstacles and Destroyer of Sorrows, and Lakshmi Goddess of spiritual and material abundance; and of course Feng Shui symbols. "The vibration of my artwork images is created while I chant the intentions into them as I paint, which helps with the law of attraction…which says that like is drawn unto itself… that what you focus on...you create more of in your life", says Dawn.
Joseph Dispenza, Author of God On Your Own: Finding a Spiritual Path Outside Religion, recently wrote, "Dawn's images blend symbolism and texts from different belief systems and cultures to demonstrate the truth that we are all One. By integrating the activating power of ancient symbols with the creation of your own personal intentions, Dawn's art provides a breakthrough approach for realizing dramatic change in your everyday life."
"We are absolutely thrilled to have Dawn with us," said Dale Moses, owner of the Moses Art Gallery. Dawn's Intentional Art was last seen in Dallas at the invitation of the Dallas Museum Store in conjunction with the King Tut and the Golden Age of the Pharaohs exhibition December 2008. Dawn is the owner of the Galeria Eclectica in San Miguel de Allende.
Dawn's Presentation on Creating Sacred Spaces Using Intentional Art Tiles will be held Thursday, June 18th from 6:30 to 8 p.m. The 'Awakening' Exhibit Opening Reception is Friday, June 19th from 4:30 to 8:30 p.m. Meet Dawn at the gallery on Saturday and Sunday June 20th and 21st from 11:00 a.m. to 4:00 p.m.
Moses Art Gallery
3002 Wycliff Ave, Dallas, TX 75219
214-709-5151
Contact:
Dawn Gaskill
214-329-4484
dawn(at)dawndesigns.com
http://www.dawndesigns.com
###