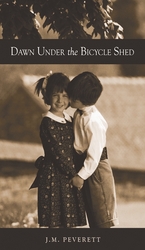 It is in a sense historical romance
Fayetteville, NC (Vocus) November 7, 2010
For many cities, post- World War II reconstruction led to the full discernment of the war's wide-reaching devastation. The city of London saw its commercial industries deeply damaged as aerial bombardment devastated its docks and city streets. In a memoir encapsulating this time in history, Dawn Under the Bicycle Shed (published by WestBow Press) by J.M. Peverett provides a moving account of a young boy growing into adulthood as a city rebuilds itself.
An epistolary autobiography, Dawn Under the Bicycle Shed is written in a series of diary entries. Peverett also includes letters and other correspondences written by friends and relatives during London's post-war restoration. He remembers the time through the eyes of a spirited and curious child, innocent of the consternation that was occurring around him.
In one diary entry, dated April 1950, he writes:
My name is Benjamin, not Ben. I am 4 and a half. I want a dog but Mummy says no. I love Daddy. Auntie Fannie said I must not shorten my name.
A coming-of-age story, Dawn Under the Bicycle Shed shows how a young boy following the twists and turns of adolescence learns about himself, about his country and, in the end, about life.
"It is in a sense historical romance," remarks Peverett. "Those who love romance, adventure, travel, London will enjoy the tales."
About the Author
J.M. Peverett was born in London at the end of World War II and, among other things, played drums for a rock band. He also worked as a roadie, which gave him the opportunity to work with the musician Rod Stewart. He moved to the U.S. in 1976. He is presently a pastor in North Carolina. This is his first novel. For more information, visit http://www.JMPeverett.com.
WestBow Press is a strategic self-publishing alliance of Thomas Nelson, the world's premier Christian publisher, and Author Solutions, Inc. (ASI)—the world leader in the fastest-growing segment of publishing. For more information, visit westbowpress.com.
###