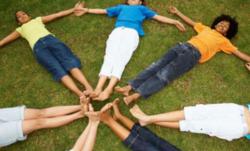 We blend new technology with hands-on creative activities.
San Francisco, CA (Vocus/PRWEB) May 19, 2011
Vision Academy, a San Francisco and Mountain View day camp, is now accepting registration for summer camps being held from June 13 until August 5th on their website: http://www.thevisionacademy.org/. Parents can choose daily passes, however one week mini camps are the most popular.
Unlike a traditional camp, the Mountain View and San Francisco day camp helps develop Renaissance kids who excel in physical, mental and creative disciplines. They believe that kids should not box themselves into an identity tied to a single category like sports or academics, but should explore a variety of interests while having a lot of fun. Vision Academy tries to bridge the gap between the classroom and the playground.
Vision Academy Mountain View and San Francisco summer camp participants enjoy activities like stop-motion animation, chess, painting, sports, music, as well as create their own physical passports that will be used to travel the world digitally on computers and tablets. While doing so, campers learn about the culture, music and arts of different countries across the globe.
"In addition to learning about the ancient cultures on the computer tablets, kids will draw sketches of Machu Picchu in Peru and make clay models of Cairo, Egypt," said Xavier Serrato, co-founder of Vision Academy. "We blend new technology with hands-on creative activities."
Vision Academy's summer camp is competitively priced at half-days from 9 am to 1pm or 1 pm to 5 pm for $190, and full-days is from 9 am To 5 pm at $280 per week. Additional hours are also available starting at 8 am and ending at 6 pm for an additional cost of $10 per hour. There are sibling discounts and $50 off referrals for both families, and Vision Academy offers scholarships on a case by case basis.
For more information about Vision Academy call (415) 886-7591, or visit them online at thevisionacademy.org.
About Vision Academy
Xavier Serrato and Kian Alavi came together to create The Vision Academy. Xavier holds a master's degree in education and has been working with kids for 15 years. Kian comes from a Montessori background and has worked with the Tenderloin After School Program.
The Vision Academy is a revolutionary idea that combines 21st century learning tools such as iPads and Android tablets with traditional activities such as chess, sports, art and music into one dynamic program. Using tools like, Android tablets and I-pads kids will learn a wide range of disciplines like learning how to mix music and creating stop animation along with more traditional activities.
###