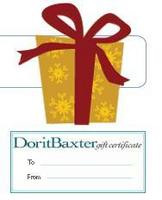 how to be spa-wise when using a gift certificate
New York, NY (PRWEB) December 8, 2009
Dorit Baxter, founder and owner of New York Day Spa in midtown Manhattan, http://www.newyorkdayspa.com , educates consumers on what to ask when buying a day spa gift certificate, and how to be spa-wise when using a gift certificate.
Purchasers should make sure that the day spa will be gift-recipient-friendly by asking the following questions before buying a gift certificate:

Converting: can a gift certificate for one specific spa service be converted to another specific service, or to the monetary value of the gift?
Sharing: can the gift certificate recipient share a spa package with a friend?
Transferring: can the recipient transfer the entire gift certificate to a friend?
Tipping; will the recipient be able to use a portion of a monetary gift certificate toward tips to aestheticians performing spa services?
Extending: will the recipient be permitted to extend (for a small fee) the gift certificate beyond its expiration date?
Be a Spa-Savvy Gift Certificate Purchaser
Dorit Baxter advises those buying gift certificates through an agency of spa affiliates to be aware that the agency which makes the sale sets the terms of the gift certificate, not the spa whose services are being purchased. "A spa, no matter how flexible, cannot make adjustments for the recipient of a gift certificate which would be counter to the policies of the agency that sold the certificate," Baxter explains.
Be a Spa-Savvy Gift Certificate Recipient
"When you call to make an appointment at a day spa, don't say that you have a gift certificate," Baxter cautions gift recipients, explaining that the spa has already been paid for the services on the gift certificate and therefore may not be as accommodating to certificate holders as to clients calling to make appointments for treatments which have not been prepaid.
About Dorit Baxter
A Manhattan-based skin care specialist for over three decades, Dorit Baxter launched in 1989 one of America's first day spas, featured in Time Magazine (July 22, 1991) as the prototype for an establishment catering to the convenience of busy urbanites seeking beautifying and wellness-promoting treatments in proximity to home and office. New York Day Spa was an original promoter of Dead Sea Skin Care products in the U.S. and an early exemplifier of multi-cultural beauty concepts. A trend-setter rather than follower, Baxter ignores fads in 21st Century beauty, preferring to stick to the basics except when introducing truly innovative treatments. For more information, please visit http://www.newyorkdayspa.com.
Contact:
Dorit Baxter
New York Day Spa
212-371-4542
http://www.newyorkdayspa.com/
###