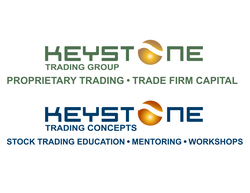 Technical Analysis & Trading I
New York, NY (Vocus) October 14, 2009
Proprietary trading firm Keystone Trading Group recently hosted part one of Florida Atlantic University's Trader Talk Series, presented by the FAU Trading Room in the College of Business. The program, entitled "Technical Analysis & Trading I," discussed different types of trading and asset classes as part of the series' focus on "bringing markets to life." Keystone Trading Group will also host the second part of the series, "Technical Analysis & Trading II," taking place October 22. The series is presented free to FAU students with FAU identification
"We are excited to have the opportunity to speak to FAU students and graduates about our experience as traders while providing them examples of real world trading, ultimately bridging the gap between classroom theory," says Erik Solomon, CEO of Keystone Trading Group.
Conducted by professional traders, FAU's Trader Talk Series is an educational series designed to be a conversation with world class traders, hedge fund managers and analysts. The series presents to attendees many aspects of trade, including trading techniques and strategies used to make money, secrets of successful traders, the latest market outlook and risk management techniques used by real traders.
As a proprietary trading firm, Keystone Trading Group seeks partnerships with both new and experienced traders. Successful day trading requires mentoring, discipline, capital and a proven trading plan. Keystone Trading Group provides all these key components to its day trading partners. Keystone Trading Concepts is the education and mentoring division of Keystone Trading Group, featuring stock trading and mentoring programs that bridge the gap between seminar theory and real world trading results. All mentoring through Keystone Trading Concepts is done with real money under live market conditions.
The College of Business at Florida Atlantic University is one of the largest in the country. The university's executive program is mentioned in Business Week's survey of executive programs as one of the best in the south; the finance department was ranked 35th in the world based on published research and second in the nation for research in financial education. FAU's business school has also been named to Princeton Review's list of Best Business Schools for 2008 and 2009, while the Entrepreneurship Program was ranked in the Top 50 by Success magazine.
"The students and graduates in attendance at the Florida Atlantic University displayed great passion and desire to absorb all the information we provided, which is exactly what it takes to succeed as a trader. This is one of the reasons that Keystone aggressively targets fresh minds with a desire to learn," says Peter Renzulli, President of Keystone Trading Group.
Part two of FAU's Trader Talk Series, entitled "Technical Analysis & Trading II," will take place Thursday, October 22 from 5:30 - 6:45 p.m. Part three, "Technical Analysis & Trading III," will take place Thursday, November 19 from 5:30 - 6:45 p.m. Advanced registration at http://www.tradingroom.fau.edu is required, as seating is limited.
For more information about Keystone Trading Group or its participation in Florida Atlantic University's Trader Talk Series, visit http://www.keystonetradinggroup.com or http://www.keystonetradingconcepts.com.
Media contact:
Erik Solomon
212-594-8900
###