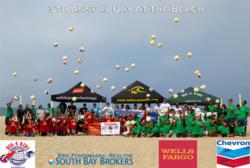 I get to share with the kids what the beach meant to me when I was their age.
Manhattan Beach, CA (PRWEB) July 27, 2011
The 5th Annual Day at the Beach, hosted by 2000 Olympic Beach Volleyball gold medalist Eric Fonoimoana, was an opportunity for over 100 kids from the Boys and Girls Clubs of Carson and San Pedro to play volleyball, dodge ball, tug-of-war and musical chairs at the beach. The July 20 beach day at 8th Street in Manhattan Beach was organized by Fonoimoana's Dig For Kids foundation, with support from Wells Fargo, Baycap, Chevron, Beach Cities Orthopedic, Wilson, Watermans, Icelandic Glacier Water, Zico, Australian Gold, FRS, National Volleyball League and Mattel. Fonoimoana encouraged the kids to "Dream BIG" as he spoke of his Olympic experience while the kids passed around his gold medal.
For most of the kids, it was their first time visiting the beach. The goal, Fonoimoana said, was for the kids to have an enjoyable experience so they will return with their friends and families.
"This is one of my favorite days of the year. I get to share with the kids what the beach meant to me when I was their age. I am fortunate to have a very successful real estate career that allows me the freedom to encourage kids to do great things," Fonoimoana said.
The kids all received a T-shirt, a cap, lunch and a toy from Mattel.
"At the end of the day, we spread out arm in arm, two blocks wide to clean up the beach. We wanted them to learn that this is their beach and it's their responsibility to keep it clean.
During the school year Dig for Kids conducts "Digging Education" after school programs for over 300 underserved students in the South Bay.
For a video on the Dig for Kids Day at the Beach visit http://www.youtube.com/watch?v=37bPTSZygO0
For more information about Dig for Kids visit http://www.facebook.com/Dig4Kids.
For more information about Eric Fonoimoana visit http://www.Manhattan-BeachProperties.com.
###