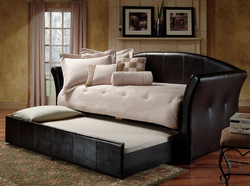 Houston, TX (PRWEB) April 14, 2010
With new Metal Beds and Daybeds, Home and Bedroom Furniture is celebrating the National Better Sleep Month in May. Featuring Hillsdale Furniture's new Spring Line, the online retailer of quality Discount Bedroom Furniture is adding more choices for consumers that help to fight the ongoing Recession.
The National Sleep Foundation estimates that the average American gets 6 hours and 40 minutes of sleep on weeknights. That's a full 100 minutes less than sleep disorder physicians recommend. What's more, according to the foundation's "2010 Sleep in America poll, "people sleep almost two hours less than they did 40 years ago." It's not surprising then that a week and month have been set aside to remind individuals about the importance of sufficient sleep.
While National Sleep Awareness Week has already passed, weary Americans will soon get another opportunity and valid excuse to stack some much-needed ZZZs. Now there is the entire month of May which has been declared National Better Sleep Month. Hillsdale Furniture, considered one of the nation's leading manufacturers of home furnishings, has always put comfort and a good night's sleep as one of their top priorities.
To additionally help Sleep-Deprived individuals, Home and Bedroom continues its "Recession Buster" Discount through the end of September. By entering the code "recession-buster" into the coupon box on every product page they can get a 10% discount on already reduced prices. They can reduce their worry about falling asleep behind the wheel or sacrificing additional snooze time by finding the perfect National Better Sleep Month bed.
These new Metal Beds and Daybeds join other Sleep Friendly products made by Fashion Bed Group, Prepac Furniture, Vaughan Bassett and many others. Lack of sleep sufferers who would like to upgrade their nightly comfort can learn more about the affordably priced Bedroom Furniture by visiting Home and Bedroom Furniture online at http://www.home-and-bedroom.com.
# # #