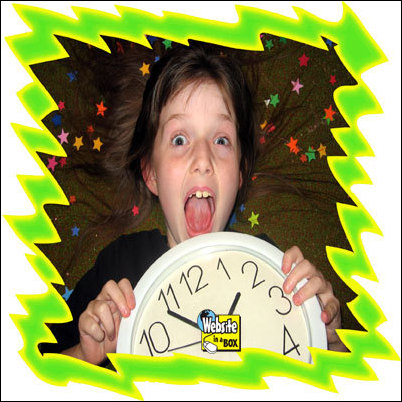 It's likely that the biggest problem most of us could face by ignoring the update would be that we'll be one hour late for our meetings - arguably a good thing
Vancouver, BC (PRWEB) March 9, 2007
Website in a Box software inc., developers of the dot-com creation package of the same name, have created an easy way to update your system in preparation for Daylight Savings Time (DST) - simply run the easy-to-use utility directly from a Website in a Box-created website.
"Because Microsoft's free Time Zone Editor is so easy to use we figured we'd make it just as easy to get it to folks," modestly stated by Website in a Box founder, Tim Pippus.
A standard $69.97 Website in a Box was used to create the site in a few minutes, optional file-sharing was added, and a gallery of screenshots was assembled during an afternoon to describe the simple Daylight Saving Tme-fix procedure.
Web visitors are invited to check out DaylightSavingsFix.com from their home or office computer. One click will download and run the program effortlessly to remove any worry they may have regarding the early switch to the energy-saving time change.
"Updating his own Web-dows computer by Webster, our cartoon mascot, is proof of the program's ease-of-use," quipped Webbie, Webster's cartoon companion at Website in a Box software inc.
The website also provides step-by-step instructions on performing the Daylight Saving Time fix by non-computer people, or for their computer geek. Additionally, the tidy website gives tips on dealing with possible mistakes in your scheduling programs from DST - such as "Note the time as part of each appointment's details until the usual start of Daylight Savings".
Pippus reminds us, "It's likely that the biggest problem most of us could face by ignoring the update would be that we'll be one hour late for our meetings - arguably a good thing".
Despite Pippus' light-hearted approach, Website in a Box techs urge Windows users take three minutes to spare themselves untold grief. Go to http://www.DaylightSavingsFix.com now. They report that the problem won't go away unless a change is made, so do it now, or before Daylight Savings Time is scheduled to change back to Standard Time in the first Sunday of November.
Website in a Box -- Everything you need to create your own dot-com. Published by Website in a Box software inc., operating a state-of-the-art network of web hosting servers connected to the premier fiber optic Internet hub in western Canada. Retail product distributed under contract in North America since 2003 by Atari USA, New York NY
Contact: Robin Bates -- ph.(604) 556-8610 -- Box 3012 Mission, BC, Canada, V2V 4J3
Stats, surveys, photos and quotable detail about computers and technology in general available at
our online Press Center.
###