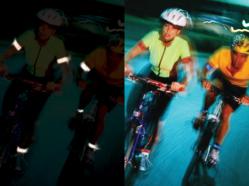 Chances of being struck and killed as a pedestrian increase 1100% after dark" ~ National Safety Council.
Boulder, CO (PRWEB) March 08, 2012
With the onset of Daylight Saving and Spring, motorist/pedestrian/cyclist accidents increase as more people get outside and re-adjust to sharing the road after the winter months. It's important to be aware of road safety and visibility issues, particularly at night when visibility is limited.
10 interesting facts about Daylight Savings and Nighttime Visibility:
1. Fewer traffic accidents:
Studies have found that the Daylight Saving Time reduces net traffic accidents and fatalities by close to one percent. Walkers are three times more likely to be hit and killed by cars right after the switch than in the month before DST ends.
2. People Like Daylight Saving Time:
According to a poll conducted by the U.S. Department of Transportation, Americans like Daylight Saving Time because "there is more light in the evenings and people can do more in the evenings."
68% of the 2.7 million citizens surveyed in Australia said they liked Daylight Savings Time (called Summer Time in Australia). Many said the primary reason is simply because people like to enjoy long summer evenings.
3. Fewer violent crimes:
According to a study by the U.S. Law Enforcement Assistance Administration, crime was consistently less during periods of Daylight Saving Time than during comparable standard time periods. Violent crimes were down 10% to 13%. Darkness is a factor in many crimes such as muggings; there are many more incidents after dusk than before dawn.
4. Safer Halloween:
Until 2006, Daylight Saving Time in the U.S. ended a few days before Halloween. Children's pedestrian deaths are four times higher on Halloween than on any other night of the year. A new law to extend DST to the first Sunday in November took effect in 2007, with the purpose of providing trick-or-treaters more light and therefore more safety from traffic accidents.
5. The Birth of Daylight Savings:
Benjamin Franklin first thought of shifting daylight in the United States, however, Londoner William Willet pushed the idea in Great Britain.
6. Dates and Times of Daylight Saving around the world:
International Daylight Savings Calendar:
http://www.timeanddate.com/time/dst/2012.html
United States: The U.S. begins Daylight Saving Time at 2:00 a.m. local time on the second Sunday in March and reverts to Standard Time at 2:00 a.m. local time on the first Sunday in November. DST is not observed in Hawaii or Arizona, with the exception of the Navajo Nation, which does observe DST, even in Arizona.
United Kingdom: The United Kingdom begins Summer Time at 1:00 a.m. Greenwich Mean Time on the last Sunday in March and reverts to Standard Time at 1:00 a.m. GMT on the last Sunday in October.
7. "Chances of being struck and killed as a pedestrian increase 1100% after dark" ~ National Safety Council.
8. Cornell University Cooperative Extension Program published a report that states "pedestrians walking along a road in dark clothing at night are first seen approximately 55 feet away, giving a driver less than one second reaction time. A driver traveling at 60 mph needs over 260 feet to stop". Black\Blue can be seen 55 feet. White can be seen 180 feet ahead. Reflective materials can be seen f200 - 1500 feet or more.
9. Avoid the Red Light of Death: "You stop to the right of a car that's already waiting at a red light or stop sign. They can't see you. You are in their blind spot. When the light turns green, you move forward, and then they turn right, right into you. If you are walking, let the car turn first if they do not make eye contact with you".
10. Use Reflective Gear or Lights to Be Seen:
If walking or biking at night, wear white or light colors, use appropriate lighting on your bike, and always wear highly-reflective gear which provides 360° visibility, including products made from 3M Scotchlite (with visibility up to 1,500 feet). Use caution with reflective products that do not state their reflective distance.
Warmer weather brings opportunities for outdoor fun - whether it's biking, walking, hiking, or sports. With these opportunities comes a greater need for safety precautions for people to be more visible at night. Vedante™ POPBANDS have the highest level of reflectivity for nighttime safety. Made with 3M Scotchlite in a wide range of fashionable colors, they are reflective up to 1500 feet - much more colorful and reflective than competitor products.
"This is the season when bikes, Frisbees, and walking shoes come out of storage - and people emerge from their winter hibernation," said Barbara Kantor, CEO of Vedante, a company specializing in highly-reflective clothing and accessories for people and pets. "Now is the perfect time to start thinking about how to keep your family, friends, and yourself safe at night."
About the Author:
Vedante is a company committed to saving lives by increasing nighttime visibility and decreasing accidents through education, awareness campaigns, and "fashion that reflects well on you."
Vedante has consistently ranked among the top 10 best sellers in the United States at Amazon.com in its respective categories for super-reflective POP BANDS and pet accessories.
Vedante's Super Reflective products can be purchased online at Vedante's e-commerce website, Amazon.com in the USA, Amazon UK and select retailers (http://vedante.com/shop.html). To locate a local retailer visit http://www.vedante.com.
For safety tips, deal alerts and fun stories:
Facebook: http://www.facebook.com/Vedante
Vedante Pet Products on Facebook: http://www.facebook.com/Vedante.Pet
Twitter: http://twitter.com/VedanteFDN