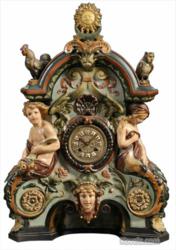 Cleveland, OH (PRWEB) March 07, 2013
"Spring forward" this weekend as Daylight Savings Time begins at 2:00 a.m. on March 10. Computers, tablets and smart phones adjust the time automatically. But a vintage Mickey Mouse watch or an old tall case clock has to be set the old fashioned way—by hand.
Attempting to change complicated watches that have perpetual calendars, moon phases or date features can be tricky business. Care should be taken so that delicate mechanisms aren't damaged. Antique clocks also require a delicate touch. The only way an antique clock should be set is forward—think "spring forward, never back"—which makes spring the easier time to change an old clock. When it's time to "fall back," the safest way to change the time is just to stop the clock and then restart it an hour later.
This German pottery mantel clock sold for $1,230 at a Skinner auction. Find prices of all kinds of antique and vintage clocks and watches in the free online price guide at Kovels.com.
Resetting clocks, both old and newer, is a minor inconvenience, but life looks a little brighter when it's still light outside at 7:30 pm.
Terry Kovel, well-known columnist and author, gives information and advice on collecting. She will discuss antiques and collectibles topics with accredited media. Photographs are available. Contact pr(at)kovels.com.
About Kovels.com
The online website, Kovels.com, created by Terry Kovel and Kim Kovel, provides collectors and researchers with up-to-date and accurate information on antiques and collectibles. Kovels' Antiques was founded in 1953 by Terry Kovel and her late husband, Ralph. Since then, Kovels' Antiques has continually published some of America's most popular books and articles about antiques, including the best-selling "Kovels' Antiques and Collectibles Price Guide," now in its 45th edition. The Kovels' website, online since 1998, and free weekly email, "Kovels Komments," give readers a bird's-eye view of the market through up-to-date news, auction reports, an online Price Guide, a Marks Dictionary, readers' questions with Kovels' answers and much more.
Contact Information:
Liz Lillis
216.752.2252
Pr(at)kovels(dot)com