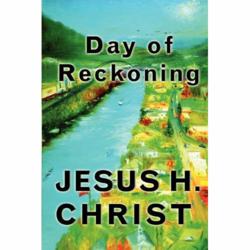 "In many ways, Day of Reckoning is the retelling of A Christmas Carol as the protagonist like Ebenezer Scrooge is transformed and then he seeks to live a new life," Jimmy Burns, a book reviewer, writes
(PRWEB) December 30, 2011
Day of Reckoning was written as a play well over twenty years ago and is about putting God on trial for both gross negligence and accessory to the thousands of crimes that have been perpetrated against humanity. Through the element of fiction, the author adroitly examines possibly the most important and fundamental questions of our time: Who are we as a human race in this age of rapid scientific advances? And exactly who is God himself?
The novel begins in an American town, Pleasantville, in rural Oregon that is destroyed by The Great Flood. Essentially, the people of Pleasantville are simple Norman Rockwell-like characters and are God-fearing folk, and after the disaster, which has devastated their personal lives, they are told by a high ranking insurance executive, Theo Clay, from Farmers Insurance that the dam being destroyed wasn't a man-made act, but an act of God. Therefore, their many claims will not be paid.
As a result, the people of Pleasantville lose their fear of The Almighty, become sober in their rage, and subsequently issue a warrant for God's arrest; and in short, God comes back from a rather long two thousand year hiatus or vacation to explain himself. The Trial of the Century concludes after much important testimony as the cantankerous Judge Schaffer angrily pounds his mallet and the people of Pleasantville, Oregon are subsequently changed forever.
The main character, Theo Clay, however, begins a new journey in his life rolling up his sleeves, and attempting to live the new truths he has just discovered.
"In many ways, Day of Reckoning is the retelling of A Christmas Carol as the protagonist like Ebenezer Scrooge is transformed and then he seeks to live a new life," Jimmy Burns, a book reviewer, writes. "It's a modern day parable where 'the old God concept' is brilliantly deconstructed by the author and 'a new God concept' is created that is infinitely more sane and non-violent. The value of Day of Reckoning is that it shows how we can move step-by-step from religion to an effective spirituality in the 21st century.
"If enough people read this particular book, it could have a huge impact.
"I give it 9 of 10 stars and strongly recommend it!"
The author himself states: "Day of Reckoning is about coming face-to-face with our often antiquated notion of God and importantly understanding that as we evolve, so does our very idea of God evolves."
Jesus H. Christ has written other books as well.
Right now, Day of Reckoning is being published by Human Spirit Books and is available on both Amazon.com and Barnes and Noble.
Contact:
Publisher of Human Spirit Books
Kevin Marley
(206) 462-5113
Kevinmarley7(at)yahoo(dot)com
###