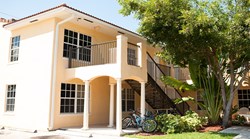 The houses must be clean and well maintained to even be considered, but that is not all.
West Palm Beach, FL (PRWEB) June 20, 2013
Best Halfway House is honored to announce that its sober housing resource network is moving into the Daytona Beach area, giving people a chance to keep traveling their road of recovery from drug and alcohol addiction.
Best Halfway House strives to provide plenty of sober house selections for men and women in Daytona Beach.
All sober houses Best Halfway House selects must meet certain criteria for inclusion in the network. They need to be clean and well maintained. The houses must have structure and accountability measures in place. This ensures that residents are on the right track in their recovery from drug and alcohol addiction. Some houses have pools and other nice amenities. All houses are located along public transportation lines and close to 12-step meeting locations.
Halfway houses are sober living environments where people in recovery can live in a drug-free environment with other people on the same life path. The importance of choosing a good, sober home cannot be overlooked as it helps set the foundation of a good lifelong recovery from drug and alcohol addiction.
Equally important is what one does with their life in recovery. Best Halfway House can help with job placements in the area and even assist their residents toward getting back to school to complete their degree. Individuals can go extended care, also known as Intensive Outpatient Treatment, where residents can continue their drug treatment therapy after leaving a residential treatment center. All South Florida sober living homes have house managers who are there to help newer residents out in any way possible.
To learn more about the Best Halfway House Recovery Network, visit their website at http://besthalfwayhouse.com or call them at (800) 335-9720.