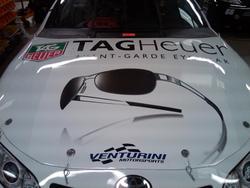 Racing has always been a huge part of the TAG Heuer heritage
Weston, FL (Vocus) February 5, 2010
When open-wheel star Danica Patrick makes her NASCAR debut, it looks like she'll be chasing the green, red and white #25 Venturini Motorsports Toyota, sponsored by TAG Heuer Eyewear and driven by Mikey Kile. The car, which appropriately features a pair of TAG Heuer Eyewear "Speedway" sunglasses on the hood, turned in the fastest times during practice sessions leading up to the race.
The Venturini Motorsports sponsorship came naturally to the brand, explains Guillaume Pottecher, President of Logo of the Americas, distributors of TAG Heuer Eyewear. "Racing has always been a huge part of the TAG Heuer heritage," he says. Many TAG Heuer sunglasses and eyeglasses are crafted to fit comfortably under a helmet, and feature names like "Speedway," "Curve," "Track" and the brand new "Racer," worn by Mikey Kile.
The 2010 ARCA Racing Series presented by RE/MAX and Menards kicks off with the Lucas Oil Slick Mist 200 at Daytona Int'l Speedway on Saturday, February 6, 2010. The race is live on SPEED beginning at 4:30 p.m. Eastern.
Check arcaracing.com and arcanation.com for exclusive coverage of the ARCA Racing Series' portion of Speedweeks 2010, including live timing and scoring and a live audio feed of on-track activity.
TAG Heuer – maker of high-end sports watches and chronographs since 1860 – has been applying the same standards for design and quality found in their timepieces to the creation of exceptional eyewear since 2002. All TAG Heuer "Avant-Garde" Eyewear lenses are shatter-resistant, ultra-light and provide 100% UV-A and UV-B protection. TAG Heuer Eyewear is available at authorized retailers nationwide.
Consumers: For more information on TAG Heuer's Eyewear full line of sunglasses and eyeglasses, and to locate authorized retailers, visit http://www.tagheuer.com/eyewear.
Press: For more information, please contact Stefanie Schoen at S3 Public Relations: 973.257.5533.
###