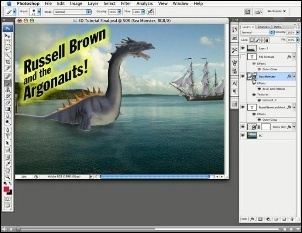 It's so easy to bring in 3D elements from DAZ/Studio to CS3 Extended that literally anyone can do it
DRAPER, Utah (PRWEB) April 12, 2007
"The new 3D technology in Photoshop is very exciting," said Chris Creek, executive vice-president of DAZ 3D. "The response from everyone at the recent Photoshop World conference in Boston was incredible. Artists love having the ability to easily load and manipulate 3D assets directly within their favorite 2D art tools. I think this technology is a great example of how 3D is becoming more and more accessible to the masses."
Available for free download, DAZ/Studio provides an ideal solution for budding 3D artists as well as professional 3D designers, photographers, filmmakers, animators, and illustrators. With DAZ/Studio, users can work with virtual objects to create images of any genre, ranging from medieval to contemporary. Using the free U3D exporter now available, it's easier than ever to complete scrapbooks with 3D art and backgrounds; design books with vivid cover images; create compelling storyboards, and more.
"It's so easy to bring in 3D elements from DAZ/Studio to CS3 Extended that literally anyone can do it," said Russell Brown, Senior Creative Director at Adobe Systems, Inc. "By combining the extensive catalog of 3D assets at DAZ 3D with the power of Photoshop CS3 Extended, artists will experience amazing creative freedom."
A video tutorial, created by Russell Brown, which walks users through the steps of loading the DAZ 3D Sea Dragon model into Photoshop CS3 Extended, has been posted for public viewing here: http://av.adobe.com/russellbrown/SeaDragonSM.mov. The U3D version of the Sea Dragon model is also available for free download from within the DAZ 3D weekly free product archive (http://free.daz3d.com). Here users will find a host of 3D models and accessories available for free download which can then be exported as a U3D file from DAZ/Studio to then be loaded within Photoshop CS3, as explained within the video tutorial.
Pricing and Availability
DAZ/Studio 1.5, with the included U3D content exporter, is available free of charge at http://studio.daz3d.com. DAZ/Studio works with Windows 98(R) SE or higher and Mac(R) OSX 10.3 or higher, including the Intel-based Macintosh computer systems. DAZ/Studio comes with three pre-configured 3D scenes, including the popular Victoria model, an extensive user manual, and easy-to-follow tutorials for getting started. To obtain a free copy of DAZ/Studio, users must register for a free account on the DAZ 3D website.
DAZ 3D offers a large library of 3D content scenes and models that can be purchased for use with DAZ/Studio. The company also distributes a weekly newsletter announcing new products, discounts and special offers, including a weekly free product. Informative forums, online art galleries and special membership based savings plans for customers are also available. For more information, please visit http://www.daz3d.com.
About DAZ 3D
Founded in 2000, DAZ 3D, located in Draper, Utah, is a market leader in creating 3D software and content. The company's model library is renowned for containing high-quality 3D content at the industry's most competitive prices. DAZ 3D also develops powerful software applications that support its content. DAZ 3D products have been used in many professional productions, television shows and print publications such as "X-Men 2," "Spiderman," "Average Joe," "48 Hours," The Wall Street Journal, Popular Science, and the History Channel. For more information, please visit the company's website at http://www.daz3d.com.
About Adobe Systems Incorporated
Adobe revolutionizes how the world engages with ideas and information - anytime, anywhere, and through any medium. For more information, visit http://www.adobe.com.
(C) 2007 DAZ 3D, Inc. All rights reserved. DAZ and the DAZ 3D logo is a Registered Trademark of DAZ Productions, Inc. Adobe is a Registered Trademark of Adobe Corporation. All other brand names, product names, service marks or trademarks belong to their respective holders.