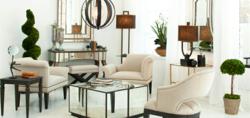 "I want everything in our store to be … dazzling!"
(PRWEB) November 22, 2012
At DazzleandDecorate.com, the extraordinary collection of unique décor and home furnishings products continues to grow and raise the bar for quality, value and jaw-dropping decorating ideas.
Today, Kelli Hendricks, owner and founder, announced the addition of two new lines that complement the already compelling array of home furnishings and gift ideas. To celebrate, now through the Holiday Season, everything in the store – including the new lines – is On-Sale and 25% off.
Jubilee Collection features unique lighting and accessories, including artful lamps, shades, sashes, chandeliers, wall sconces and even nightlights. Everything in the line comes together in breathtaking combinations of colors and themes, making it easier and more affordable than ever for customers to add a final touch to any room, to put their personal stamp on it, making it as fresh and spectacular as it is unexpected and fashionable.
Or as Kelli likes to say, "I want everything in our store to be … dazzling!"
Uttermost offers accent furniture, wall décor, art, clocks, lamps, lighting fixtures, rugs, accessories and much more.
"I love this company," Hendricks explained, "Uttermost is 36 years old, but I think of them as 36 years young. For all of their success and growth, the company is still family owned, but with an impressive global footprint and design influence. I'm impressed they could do that without losing sight of the fact that in the end it's all about customer satisfaction."
http://www.DazzleandDecorate.com debuted in late summer with a mission to make decorating a home easier, more relaxed, and fun, while featuring an array of products that simply can't be found anywhere else. From the kitchen to the bath, bedrooms to family room, living room and dining room, great ideas to bring every room to life with style, taste and all at a terrific value.
"Each room in our home is a reflection of us," Hendricks continued. "A room is more than four walls and a floor. Our goal at DazzleandDecorate is to help our customers bring out the very best, and now, there is more to choose from than ever, and it's all on-sale!"
To learn more, visit http://www.DazzleandDecorate.com.