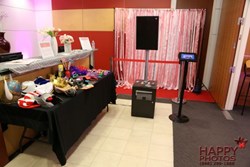 What makes this photo booth company amazing, is that it is a totally interactive experience. Once you choose your favorite props, grab a few friends and jump into the booth, something magical happens. - Niloufar Gibson, Bridal Hot List
Orange County, CA (PRWEB) November 12, 2013
Considering their uniquely professional and seriously fun approach to covering all sorts of events, it was not going to be very long until Dazzle Photobooth would be featured in one of the industry's heavyweight online publications.
Weddings are indeed one of the many events Dazzle Photobooth caters for, with wind of their professional service deservedly finding its way onto The Bridal Hot List, a dedicated wedding trends site run by Wedding and Event Coordinator, Niloufar Gibson. Dazzle Photobooth's full-page feature on BridalHotList.com is undoubtedly a shot in the arm for the photo booth rental company and this positive vote of confidence, from the industry's big sister, serves as one of many validations for Dazzle Photobooth's growing statue in the local events and entertainment industry.
The landmark October 29 feature on The Bridal Hot List was full of nothing but deserved praise for Dazzle Photobooth, deeming its feature worthy of a special appearance, as it coincided with Bridal Hot List's One Year Anniversary Celebration. The positive light shone on Dazzle Photobooth wasn't limited to the fact that it featured on a special day though, with their services mainly accounting for the photo booth rental company's feature.
"What makes this photo booth company amazing, is that it is a totally interactive experience. Once you choose your favorite props, grab a few friends and jump into the booth, something magical happens." - Niloufar Gibson, Bridal Hot List
Any company can list their services on their website, but when the services of a business such as Dazzle Photobooth come to life, there is no better way to gauge them than through the eyes of someone who has either experienced them themselves, or through the eyes of someone who is actively involved in the consumer market targeted by those services.
Dazzle Photobooth offers their professional photo booth rental services to cover all sorts of events, including wedding showers, baby showers, weddings, birthdays, corporate events, Bar/Bat Mitzvahs, charity events, product launches, school events (proms, graduations etc.) and any other event during which the memories made can be captured on camera. Customer satisfaction is clearly what they live for, but the service really stands out, above everything else, because of its affordability without any compromise in quality.
The enthusiasm resonates throughout the entire team, with the professional attendant on standby, always wearing a smile and depicting a sincere eagerness to bring some joy to any event.
Dazzle Photobooth truly deserved to be featured on The Bridal Hot List, with added details putting them at the cutting edge of photo booth rental services, including enclosed photo booths or open air booths, sub-dye printing so as to eliminate any drying time or smudging (it's the little things that matter most!), a complementary USB Thumb Drive or DVD with all of the event's pictures, some amazingly cool props for the guests to use, unlimited pictures, a large panel screen to make for perfect poses, a flash portrait studio lighting system and lots, lots more.