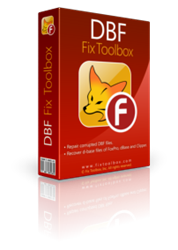 DBF Fix Toolbox permits restoring corrupted databases with DBF extension on any computer.
Alexandria, VA (PRWEB) December 14, 2012
The latest version of DBF Fix Toolbox represents an efficient DBF fix solution, suitable for all available hardware configurations. The users of Fix Toolbox software regularly leave their feedback on the website of application developer so they know how it works and how easy it is. This program supports any version of input DBF database, created in any application therefore there is no need to worry about possible compatibility problems and other issues, affecting the normal operation of corresponding databases in DBF format.
The way of DBF fix, powered by DBF Fix Toolbox, guarantees the safety of analysis and other data recovery activities, including the export of repaired items into another database. The case is that DBF Fix Toolbox creates a copy of input database before opening this file and never modifies the information in use. After the first start of DBF Fix Toolbox users simply follow its guidelines and quickly get back all documents without using some kind of external data recovery services, revealing the confidentiality of personal information.
Fix Toolbox application developer offers many software products to restore corrupted information from database files, workbooks, text documents, images and other formats. Fix Toolbox software supports more than twenty data formats and offers the highest efficiency of analysis in all cases, it is possible because the processing of corrupted documents is performed offline without the connection to other servers. Fix Toolbox software can be found at: Pacific Business Centre
P.O. Box 34069 #381, Seattle, WA 98124-1069, USA
Software manufacturer: http://www.fixtoolboxx.com/
Product description: http://www.dbf.fixtoolboxx.com/