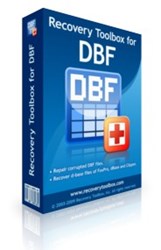 a major update of Recovery Toolbox for DBF, the most sophisticated and reliable product of its kind.
Sacramento, CA (PRWEB) May 14, 2013
Recovery Toolbox, a company known for its line of efficient file repair and data recovery products, is glad to announce the release of a major update of Recovery Toolbox for DBF, a program that helps users of all skill levels to recover data from damaged DBF database files. This DBF recovery tool fully supports files created in dBase IV, Clipper, FoxPro 2, Visual FoxPro and other database management systems. The solution uses a combination of several recovery algorithms to restore as much data as possible, including the general structure of the source database, regular user data and data stored in MEMO fields (from associated fpt or dpt files). The interface of the program has been simplified and turned into an easy to use recovery wizard featuring a built-in database viewer. The program enables users to recover data to various destination database formats and shows a detailed recovery log upon completing the process. Recovery Toolbox for DBF supports all major versions of Windows and requires no additional components.
"DBF is still one of the most popular database formats, especially in legacy applications of all sorts," says Victor Bobrov, Lead Developer at Recovery Toolbox. "Since we already had an interface that our users really liked, we focused on improving the overall efficiency of the product by implementing better algorithms. Our DBF recovery solution demonstrates excellent recovery results even with files that competing solutions couldn't handle and our team is really proud of this fact."
The free trial version of the software can be downloaded from the official website.