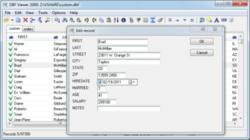 It is able to handle large databases very quickly. Filtering data is simple and intuitive.
Seattle, WA (PRWEB) February 11, 2013
One of the most popular and wide-spread database formats is DBF. Such database systems as dBase, FoxPro and Clipper recognize it as the main format, while many other database frameworks simply support it. No wonder many database users and administrators are looking for an easy and cost-effective way to manage DBF files.
DBF Viewer 2000 by HiBase Group is one such way. This is a simple yet extremely powerful instrument for DBF editing, viewing, search and exporting of data. The program has two main advantages over competing solutions: it is fast and it is simple. The core of the program was greatly optimized to make all operations with the DBF format extremely quick and reliable, and the capacity of the tool can match that of some enterprise-level solutions. At the same time, using DBF Viewer 2000 is easy to use thanks to the lightweight interface and well though out controls.
Among features offered by the program are DBF structure analysis, convenient and fast modification of data, renaming of fields and records in a dbf files. Extensive exporting capabilities allow a user to export data from a DBF file to multiple third-party formats, including CSV, XLS/XLSX, XML, SQL Server, Oracle, PostgreSQL, HTML, PRG and others. The new version also allows saving statistical reports to HTML.
Reliable operation and the support for all Windows systems starting from Windows 95 to Windows 8 means DBF Viewer 2000 is ready for use on literally any system.
Pricing and availability
DBF Viewer 2000 is available for Windows 95/98/2000/XP/Vista/7/8, 32- and 64-bit editions. The license costs range from $49.95 for a personal license to $999.95 for a worldwide unlimited license.
Links
Website: http://www.dbf2002.com
Download link: http://www.dbf2002.com/dbfview.exe
About
HiBase Group founded in 2002 focuses on database development and management software, specifically on the DBF format. Among products offered by the company are DBF Viewer 2000, DBF Recovery, DBF Converter.