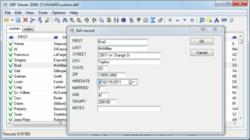 Seattle, WA (PRWEB) August 13, 2012
DBF Viewer 2000 has been developed for database administrators as an affordable multi-language tool, which enables them to view and edit DBF files of all types: Clipper, FoxPro, Visual Foxpro, dBase III/IV, dBase Level 7, HiPer-Six. Its main advantage over other similar programs is a really astonishing operating speed, which remains as high even when working with large size databases. It is guaranteed by the highly optimized proprietary engine of DBF Viewer 2000.
Despite the program's relatively affordable price, the range of its functions is wide enough to satisfy the most demanding database administrators. With the help of DBF Viewer 2000 it is possible to edit DBF files content, view, edit and export memo fields, restore deleted entries, search and replace entries, find and remove duplicate entries, run query by example, sort data, export DBF files to Excel (XLS, XLSX), CSV, TXT, SDF, XML, HTML, PRG, SQL file formats. Besides, export to SQL script (MS SQL, MySQL, Oracle, PostgreSQL) is supported as well, and routine operations can be automated with the help of command line. As compared to the previous version, DBF Viewer 2000 v4.75 features improved deletion of duplicate entries and improved command line generation.
It should be noted that DBF Viewer 2000 does not require any external database management drivers, systems, libraries or engines. As for the program's interface, it is as clear and intuitive as possible, making DBF Viewer 2000 a great time-saver.
Pricing and Availability
DBF Viewer 2000 v4.75 is compatible with Windows 95, 98, NT, 2000, XP, Vista, 2008, Windows 7 and Windows 8 (32/64-bit). The price starts from 39.95 USD for a Personal License. Every customer is entitled to free updates and upgrades in the future. Further information, as well as the program's free evaluation version, is available at the product page.
Links
Product page: http://www.dbf2002.com
Download link: http://www.dbf2002.com/download.html
Company
Founded in 2002, HiBase Group is a software development company specializing in utilities for DBF files. Expert level programming skills and years of development experience result in such efficient tools as DBF Viewer 2000, DBF Recovery, DBF Converter and others. For more information please visit http://www.dbf2002.com