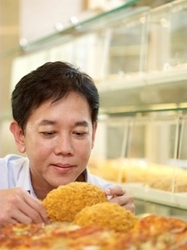 I've had DBS as a business partner since 1997. After I started my first BreadTalk shop in China in 2003, we needed to build a factory to support the business. It was hard as the investment was huge. But DBS came in as the first bank to support my new vent
Singapore (PRWEB) December 24, 2009
DBS Dialogues, a website supported by DBS Bank, provides essential, timely advice from successful business leaders to help entrepreneurs in Singapore and across Asia. George Quek, founder of BreadTalk and other well-known restaurant ventures such as Food Republic, Toast Box and Din Tai Fung, shared his experiences and insights on how to take businesses to the next level.
While studying in Taiwan, George entered the food and beverage industry with limited know-how and learnt how to build up a business the hard way. Today, George is opening new BreadTalk outlets almost every day in Bahrain, Turkey, Jordan, Saudi Arabia and other cities in China.
The secret to BreadTalk's success? "We have always been hardworking," George says. "For an enterprise to grow big, you need a strong and committed team. No other factors are more crucial than this."
Having a reliable team of employees and partners is also crucial to the company's rapid expansion. As a leader, George needs to be able to empower his managers to drive decisions themselves. "You can't just send someone overseas without empowering them. The market in China, for example, is so much bigger than Singapore's, so the manager that we send there has to be empowered to deal with that kind of scale."
When in need of a reliable financial partner, George turns to DBS who has always been by his side through thick and thin. He said, "I've had DBS as a business partner since 1997. After I started my first BreadTalk shop in China in 2003, we needed to build a factory to support the business. It was hard as the investment was huge. But DBS came in as the first bank to support my new venture in China. We've never looked back since."
For more insightful business tips from George Quek, please visit DBS Dialogues website at "http://www.dbsdialogues.com/dialogues_george_quek.asp"
In addition, check out DBS' in-depth reports and videos on valuable consumer and business insights at "http://www.dbsdialogues.com/plugged_in.asp" in January 2010.
About DBS
DBS is the largest bank in Singapore, a leading bank in Hong Kong and is one of the largest financial services groups in Asia. Headquartered in Singapore, DBS has operations in 16 markets and is a well-capitalised bank with "AA-" and "Aa1" credit ratings, one of the highest in the Asia Pacific region.
As a bank that specialises in Asia, DBS leverages its insights, deep understanding of the region and appreciation of local cultures to serve and build lasting relationships with its clients. DBS provides a full range of services in corporate, SME, consumer and wholesale banking activities across Asia and the Middle East. DBS will leverage its growing presence in China, Hong Kong and Taiwan to intermediate the increasing trade and investment flows in the Greater China region. The bank is also focused on extending its footprint and facilitating capital flows in fast-growing Indonesia and India.
DBS acknowledges the passion, commitment and can-do spirit in each of its 14,000 staff, representing over 30 nationalities.
###