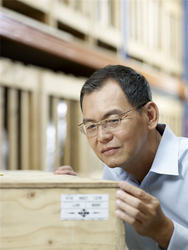 My DBS team has, over the years, operated with an SME's mindset.
Singapore (PRWEB) December 1, 2009
DBS Dialogues, an initiative by DBS Bank, provides essential, timely advice to help entrepreneurs in Singapore and across Asia take their business to the next level. Featuring exclusive interviews with Asia's business leaders, the latest guest, Joe Png of Germaxco, shares insights on how he turned a family-run business into a multi-million-dollar company.
The Germaxco founder talks about how employees and partners play a key role in the expansion of his business group. From a team of only two people, Joe has grown the operation into a group of six companies with a total of 70 employees. Today, Germaxco is a multi-disciplinary business group, which handles logistics, specialised cargo, air and sea freight management.
As a leader, Joe has always thought of his employees as part of the family, putting them before the business and earning their trust and loyalty as a result. He said, "We want our employees to be loyal, but we also have to be loyal to our employees. For the past 3 crises, I've earned my employees' confidence by not just keeping jobs, but also increasing salaries and paying out bonuses."
Another key factor in the success of the company is having the right financial partner. To Joe, having the right business partners has been integral in helping him achieve his goals. He said, "My DBS team has, over the years, operated with an SME's mindset. They are a kind of entrepreneur, although they are working as a banker. They are so willing to listen and help, and they can visualise my vision."
For the full interview with Joe Png, please visit DBS Dialogues website at "http://www.dbsdialogues.com/dialogues3.asp"
Apart from providing inspiration to businesses, DBS Dialogues is also running a lucky draw to give businesses a chance to win a customisable business office package worth SGD 10,000 that can be used to give them that extra edge as a growing company.
Interested businesses can simply enter by visiting "http://www.dbsdialogues.com/vote_win.asp" and vote for a set of survey questions that will provide working ground for valuable consumer and business insights. DBS will carry out the survey and publish in-depth assessments and videos at "http://www.dbsdialogues.com/plugged_in.asp" in early December.
About DBS
DBS is the largest bank in Singapore, a leading bank in Hong Kong and is one of the largest financial services groups in Asia. Headquartered in Singapore, DBS has operations in 16 markets and is a well-capitalised bank with "AA-" and "Aa1" credit ratings, one of the highest in the Asia Pacific region.
As a bank that specialises in Asia, DBS leverages its insights, deep understanding of the region and appreciation of local cultures to serve and build lasting relationships with its clients. DBS provides a full range of services in corporate, SME, consumer and wholesale banking activities across Asia and the Middle East. DBS will leverage its growing presence in China, Hong Kong and Taiwan to intermediate the increasing trade and investment flows in the Greater China region. The bank is also focused on extending its footprint and facilitating capital flows in fast-growing Indonesia and India.
DBS acknowledges the passion, commitment and can-do spirit in each of its 14,000 staff, representing over 30 nationalities.
###