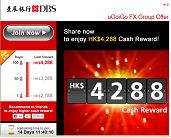 customers who successfully opens a DBS Treasures Account and makes first trade in designated currencies will get up an instant cash of HK$2,288 and a FX cash reward
(PRWEB) April 20, 2013
DBS Bank (Hong Kong) Limited has successfully rolled out a first of its kind social media group buy campaign series. Similar to an online group buy deal, the campaign allowed new DBS Treasures customers the chance to enjoy attractive product offers when they shared the foreign exchange promotion with their peers via social media.
The innovative campaign series is called uGOiGO and is part of the bank's efforts to further engage its customers in the social media space. As a second wave of this series, this latest promotion on foreign exchange was launched in March on the back of a successful pilot launch in January this year. From now until 24 April 2013, a customer who successfully opens a DBS Treasures Account and makes first trade in designated currencies including AUD, NZD, CAD or GBP will get up an instant cash of HK$2,288 and a FX cash reward. Once the number of interested customers reaches the highest tier, FX cash reward is a multiplier of HK$2,000. The more you trade, the more FX cash reward you get!
The initial wave was launched in January this year offering new DBS Treasures customers the opportunity to enjoy a preferential interest rate on a 6-month HKD time deposit. The highest interest rate tier of 1.28%p.a. is triggered once it reaches a designated number of interested customers. The promotion generated more than 13,000 page views and over 1,000 likes on our DBS Facebook fan page, proving to be a hit, leveraging digital space.
DBS is continuously innovating to improve our customers' banking experience. DBS is an early mover in the industry to leverage on social media to engage our customers. We are constantly keeping a finger on the pulse of our customers' evolving social preferences. "Following the successful pilot launch in early this year, we've rolled out the second wave of this campaign series to a FX promotion. uGOiGO is a new initiative pioneered in Hong Kong and is now rolled out regionally to complement our overall strategy in reaching out to customers. Leveraging the power of social media, we see a great opportunity for our customers to share good deals with their peers for better customer engagement," said DBS.
To find out more about our FX promotion, please refer to http://www.dbs.com.hk/en/consumer/promotion/04.aspx.