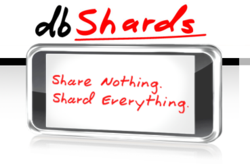 Our established track record of enterprise customers includes three of the top 50 Facebook applications.
DENVER (PRWEB) November 08, 2011
CodeFutures today announced the first client-only version of dbShards, a no-charge Basic Edition for MySQL® databases in the cloud. CodeFutures also announced its new Open Sharding Protocol (OSP) ™ and an Enterprise Edition to scale virtually any relational database with high-availability.
With the dbShards Basic Edition you get free open sharding technology that addresses the most challenging database sharding issues for MySQL customers in the cloud for all phases of the sharding process. The Basic Edition includes up-front tools for shard analysis, configuration, "dump/shard/load", and critical operational capabilities such as global writes, relational sharding, joins and "Go Fish" parallel queries. In addition customers will receive free email support for 30 days, free forum support for the next 30 days, and optional paid support after that.
dbShards' Open Sharding Protocol (OSP), which utilizes Google™ protocol buffers for its messaging infrastructure among other tools, for the first time, offers clients flexible options to address their database scalability implementations while keeping costs in check. With OSP, database sharding can now be supported with plug-compatible native drivers for virtually any DBMS on any platform.
For customers that require the highest levels of reliability and performance, dbShards Enterprise Edition provides a complete suite of tools supporting high-availability, scalability and management for a wide array of DBMS platforms, very efficiently at a lower cost when compared with traditional options. Customers also benefit from a carefree solution for database managers in the form of 24X7 support, monitoring and direct access to database sharding experts.
"This latest suite of tools and services will help our customers scale any database in the cloud in a consistent manner," said Cory Isaacson, CEO CodeFutures. "Our architecture for standardizing database sharding implementations efficiently adapts to just about any scenario – from a very basic, do-it-yourself approach to effectively allowing dbShards to manage the entire database plant."
dbShards' established track record of enterprise customers includes three of the top 50 Facebook applications, plus signed agreements with customers in seven countries on four continents. Each use case proves yet again that high-scalability and high-availability is attainable and effective for relational databases.
CodeFutures Corporation, is the maker of dbShards, a suite of leading "NewSQL" technology solutions for DBMSes. To sign up for a private beta of the no-charge, Basic Edition for MySQL, or to learn more about the Enterprise Edition and the new Open Sharding Protocol, visit http://www.dbshards.com.
###