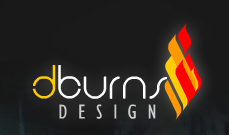 DBurns Design offers attractive and effective websites for building online presence as well as for ecommerce businesses.
Los Angeles, CA (PRWEB) August 01, 2012
DBurns Design, a leading Website Design Firm located in Los Angeles, California, commemorates its 10th anniversary – the equivalent of a century of experience in the Web Design Industry!
Over the past 10 years, DBurns Design has established itself as a reliable website design firm that offers quality custom web designing services to its wide range of clients all over the United States. From online stores for new startups to extensively designed websites for Fortune 500 companies and celebrities, DBurns Design portfolio includes custom website designs in almost all industries – music, medicine, corporate marketing, ecommerce, health and fitness, real estate, films and entertainment, social networking and more.
"Competing in the music industry, we needed something a little edgy, yet stylish & functional. Daniel Burns & his talented website design team provided the creative flair to distinguish our site. They were a pleasure to work with, always personable and continually coming up with ideas and innovative solutions that exceeded our expectations. We truly felt they were in partnership with us. They are a class act with a level of professionalism and service that is hard to find," said Duncan James, DoYouRoc.com. Currently, DBurns Designs team is also working on the design of a website for the "Queen of Disco" Gloria Gaynor! Gloria Gaynor (born Gloria Fowles; September 7, 1949) is an American singer, best known for the disco era hits; "I Will Survive" (Hot 100 number 1, 1979), "Never Can Say Goodbye" (Hot 100 number 9, 1974), "Let Me Know (I Have a Right)" (Hot 100 number 42, 1980) and "I Am What I Am" (R&B number 82, 1983).
Specializing in custom website designing, DBurns Design offers attractive and effective websites for building online presence as well as for ecommerce businesses. "First of I wanted to reiterate to you and our website design staff how pleased we are with our website. Over the past year, we have received so many compliments and this has increased our business very much so thank you again! You guys are the best Los Angeles Website Design company," says Blake Pick, General Manager, Chuck's Parking Service, Inc.
DBurns Designs has received several nominations for being one of the Best Website Design Firm in CA. The company has also bagged 2 awards by AWWWARDS.COM for their excellent website designs. In addition to their quality website design services, DBurns Designs introduces many new offerings from time to time. They had recently launched a new service that comes standard with every website they create - "Conversion Optimization", a service that is focused on measuring success of a website in terms of website optimization and conversion statistics. This service helps clients to analyze their website and make the right decisions that can enhance website traffic and performance.
Recently, the company completed the latest project - Curvy Couture, a full-fledge online store for their client, Dora L International, Inc. Their next project in line is their newest contract signed with Beckman Coulter (BC), a company that develops, manufactures and markets products that simplify, automate and innovate complex biomedical testing. DBurns Designs has been hired to design BC website that will develop a strong foothold for the company in the online space.
Dburns Design is also an eco-friendly company and in their step towards going green, they have established a partnership with "Trees for the Future" and for every website they build, they plant a tree per month – truly an exceptional contribution from a website design firm!
Needless to say, in just 10 years, DBurns Designs has progressed far ahead in the website designing arena and it is beyond doubt that the company is all set to become the preferred website design firm for all CA individuals and businesses, who are looking for a unique design website that delivers more than just what it says!
About The Author:
Based in Los Angeles, CA, DBurns Design is a boutique Website Design Firm that offers website designing services to its clients all over the United States. The company specializes in website designing, e-commerce websites, online marketing, Flash multi-media and print graphics. With an experienced in-house production team, DBurns Design ensures quality website services to deliver the best results for each of their clients that range from startups, medium to Fortune 500 companies and celebrities who are looking to create and build their online presence.
For more information, please visit the site at http://www.dburnsdesign.com/ and the blog at http://www.dburnsdesign.com/news/