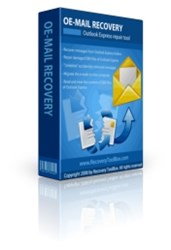 Alexandria, VA (PRWEB) January 31, 2013
The founder of OE-Mail Recovery software states the latest version of DBX extract tool features improved data recovery engine for Outlook Express users so now they have very good chances of email restoration in all instances of data corruption and regardless the root cause of DBX file damage. The usage of OE-Mail Recovery implies the absence of additional instructions and guides, in general it looks like the decompression of packed files. So users may follow the advices of Recovery Wizard and just get some rest until the processing of selected document is successfully completed and they can look through the results of analysis and evaluate the efficiency of OE-Mail Recovery tool.
This program should not cause questions even for not experienced users, they can simply follow its guidelines, select any version of Outlook Express email folder and start analyzing. Owing to the usage of heuristic data recovery algorithms, applied by DBX extraction application, this program recovers more information than other email recovery services and protects the privacy of personal information, stored in messages, contacts, attachments or other items. The absence of compatibility problems permits applying this software on any computer in the network, there is no need to worry about the PC configuration in use, it runs anywhere without the loss of performance for DBX extract.
OE-Mail Recovery software vendor suggests recovering more than 30 data formats, providing the highest efficiency of analysis in all instances of data restoration. This company works for more than ten years, developing data recovery tools and continuously improving data recovery algorithms for its software solutions. Feel free contacting this company at: http://www.oemailrecovery.com/dbx-extract.html