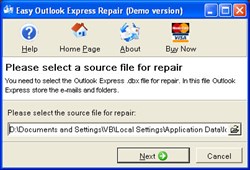 powerful and efficient DBX extract tool that helps users recover email messages from damaged files of the DBX format used by Outlook Express.
Sacramento, CA (PRWEB) March 04, 2013
MailRepair (http://www.mail-repair.com) , a software development company known for its growing line of data recovery and file repair products, announces the release of a major update of Easy Outlook Express Repair, an efficient DBX extract and repair tool used by thousands of customers at home and at work. The program is based on a proprietary file analysis core and algorithms capable of identifying emails even in severely damaged Outlook Express files. The interface of Easy Outlook Express Repair was designed with simplicity in mind and features just a few necessary control elements to minimize the user's involvement in the process. The product features a message preview function that enables users to assess the severity of the damage and see the number of messages that can be safely extracted from the file. The duration of the DBX extract process depends primarily on the size of the file being processed and the speed of the system.
"We are proud to be the authors of one of the most efficient tools for DBX file recovery," says Victor Bobrov, Head of Development at MailRepair. "The new version brings even more speed and guarantees ever excellent results even in the most serious cases of data corruption. I hope our current and prospective customers will appreciate its advantages and give it a try."
The demo version of the program is fully functional, but only restores the 10 most recent messages. Easy Outlook Express Repair is a powerful DBX extract solution that saves time and money by enabling users to recover their messages on their own within minimal time.