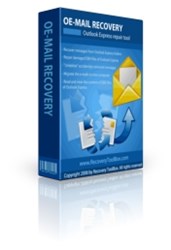 OE-Mail Recovery software is the easiest and reliable insurance policy for email folders in Outlook Express.
Alexandria, VA (PRWEB) January 10, 2013
OE-Mail Recovery does not have any restrictions with regard to the size of input folders or other limitations.It starts the process of DBX recovery on virtually any computer. It should be noted that system requirements of OE-Mail Recovery are minimal, therefore older hardware does not affect the performance of DBX file recovery, and users can feel free choosing any computer for data recovery purposes. The network support of OE-Mail Recovery allows opening DBX files from any remote disk.
Look through the testimonials of OE-Mail Recovery customers, published on the website of the application developer and get to know what others say about this software. This tool is the most efficient data recovery program, supporting the restoration of DBX files on virtually all computers, and there are no known compatibility problems that should be considered before users start. OE-Mail Recovery software processes any damage that could be leading to the destruction of Outlook Express folders and it gets back all emails, contacts, attachments and other items.
Users should not worry if they have not heard about this program before. The Recovery Wizard feature, provided by OE-Mail Recovery tool, guides its users through the process of analysis so they get advice all through the process of email restoration. There is no need to start the process of DBX file recovery for all folders simultaneously. User mailboxes in the Outlook Express format are divided into several DBX files, therefore the analysis of Inbox.dbx restores the Inbox folder of user mailboxes while it improves the overall time of analysis.
OE-Mail Recovery has been working on the software market for more than ten years and sells approximately twenty software tools for data recovery of various formats. Its legal address is: 901 N. Pitt str. Suite 325, Alexandria, VA 22314, United States of America.
DBX Recovery software:
http://www.oemailrecovery.com/outlook-express-recovery.html